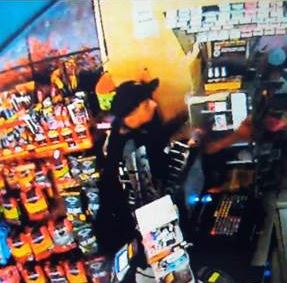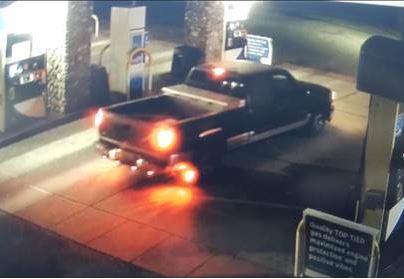 DATE/TIME: July 7, 2019 / 5:02 a.m.
INCIDENT: PC459C- Commercial Burglary
LOCATION: 8900 block of Foothill Boulevard
SUSPECT: Unknown male suspects
SUMMARY:
***ATTEMPT TO IDENTIFY***
On Sunday, July 7, 2019, at approximately 6:12 a.m., deputies from the Rancho Cucamonga Police Department responded to a call of a commercial burglary at the Arco AM/PM.
An unknown suspect used a rock to break the front door window of the AM/PM at approximately 5:02 a.m. The business was closed and unoccupied at the time of the incident. The suspect stole a clear plastic display case that contained an undetermined number of California Lottery scratchers. A second unknown suspect drove the first suspect away in a black pickup truck in an unknown direction. The pickup truck has a silver stripe running along the bottom and a toolbox in the bed of the truck.
Police are releasing photos of the suspect and the suspect vehicle in hopes to identify the suspects. Anyone with information regarding this investigation is urged to contact the Rancho Cucamonga Police Department. Callers wishing to remain anonymous can call the We-tip Hotline at 1-800-78-CRIME (27463) or you may leave information at www.wetip.com.
Refer: Deputy M. Habell
Station: Rancho Cucamonga Police Department
Phone No. (909) 477-2800
Report: 111908835
John McMahon, Sheriff-Coroner
San Bernardino County Sheriff-Coroner Department