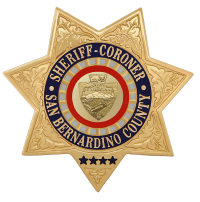 San Bernardino County Sheriff's Department
Press Release
DATE/TIME: January 18, 2018/ 8:35 p.m.
INCIDENT: Elder Abuse
LOCATION: 11200 block of Terra Vista Pkwy, Rancho Cucamonga
SUSPECT: Brandon Clay Carl's, 24-year-old from Rancho Cucamonga
Sebastian Trujillo, 27-year-old from Rancho Cucamonga
Summary
On January 18, 2018, deputies from the Rancho Cucamonga Police Department, responded to the 112000 block of Terra Vista Parkway for a welfare check of a 65-year-old female after someone called in concerned for the female. When deputies entered the residence, the victim was confined to a chair and could barely speak. During the investigation, deputies learned the victim had not been moved from the chair in almost five days. The caretaker, Brandon Carl's was refusing to look after the victim even though he was the appointed caretaker. Sebastian Trujillo, Carl's friend also lived in the home and did not try to help the victim.
The living conditions were not suitable and had dog feces scattered throughout the home. The victim could not stand on her own. Medical personnel responded and transported the victim to the hospital for treatment. During a search of the residence, deputies located several stolen license plates, shaved keys, methamphetamine, and a loaded firearm.
Both suspects were subsequently arrested and booked into West Valley Detention Center, with a bail amount of $50,000 each. Additionally, they each had outstanding warrants.
Anyone with information regarding this investigation is urged to contact. Callers wishing to remain anonymous are urged to call the We-tip Hotline at 1-800-78-CRIME (27463), or you may leave information on the We-Tip Hotline at www.wetip.com.
Refer: Deputy Todd Johnson
Station: Rancho Cucamonga
Phone No. (909)477-2800
Case No. 111800829
John McMahon, Sheriff-Coroner
San Bernardino County Sheriff-Coroner Department
Sheriff's Public Affairs Division
655 E. Third Street
San Bernardino, California 92415-0061
Telephone: (909) 387-3700