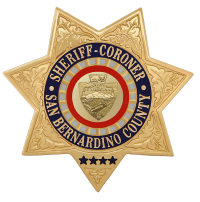 San Bernardino County Sheriff's Department
Press Release
DATE/TIME: December 27, 2017/ 11:35 a.m.
INCIDENT: Evading a Peace Officer
Attempt Petty Theft
Obstructing a Public Officer
LOCATION: 6900 block of Verdet Court, Rancho Cucamonga
SUSPECT: Patrick Dean VanReenen, 27 years-old from Thousand Oaks
Summary
FOLLOW-UP
On December 27, 2017 at approximately 11:35 a.m., deputies from the Rancho Cucamonga Police Department initiated a follow-up investigation to the vehicle pursuit that occurred on December 21, 2017, in the 6900 block of Verdet Court. The male suspect was not identified during the initial investigation.
During the follow-up investigation, deputies learned the vehicle the unknown male suspect fled in was purchased through identity theft. Deputies also learned the unknown male suspect was involved in several identity theft and stolen vehicle cases in Los Angeles County. The Rancho Cucamonga Police Department, West Covina Police Department, Azusa Police Department and the Ventura County Sheriff's Department worked together to identify the unknown male suspect.
Patrick VanReenen was identified as the suspect who fled from Deputy Bell in Rancho Cucamonga. VanReenen was located at a motel in the City of Thousand Oaks. He was arrested by the Ventura County Sheriff's Department and booked into Ventura County Jail. In addition, several felonies in both Los Angeles County and San Bernardino County are pending.
Anyone with information regarding this investigation is urged to contact. Callers wishing to remain anonymous are urged to call the We-tip Hotline at 1-800-78-CRIME (27463) or you may leave information on the We-Tip Hotline at www.wetip.com.
Refer: Deputy Michael Bell
Deputy Derek Pedersen
Station: Rancho Cucamonga Police Department
Phone No. (909)477-2800
Case No. 111716983
John McMahon, Sheriff-Coroner
San Bernardino County Sheriff-Coroner Department
Sheriff's Public Affairs Division
655 E. Third Street
San Bernardino, California 92415-0061
Telephone: (909) 387-3700