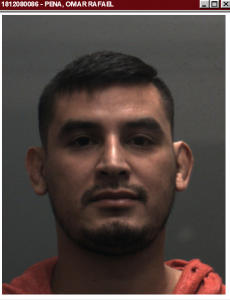 DATE: October 21, 2018
INCIDENT: PC273.5(A)- Inflicting Corporal Injury: Spouse/Cohabitant
PC236- False Imprisonment
PC518- Extortion
LOCATION: 6400 block of Laguna Place, Rancho Cucamonga
SUSPECT: Omar Pena, 33-years-old, resident of Rancho Cucamonga
SUMMARY:
Omar Pena and the victim were in a relationship for approximately six months. On Sunday, October 21, 2018, Pena and the victim got into an argument at Pena's residence and Pena hit, kicked, and choked the victim causing significant injury. He also held her against her will. The victim filed a police report with the Rancho Cucamonga Police Department but declined to press charges because she was threatened by Pena, saying he would send explicit sexual videos to her friends and relatives if she went through with the criminal case. The victim was later contacted by an ex-girlfriend of Pena and informed her of another domestic violence case against Pena. The victim was contacted by detectives and she stated she wanted to move forward with criminal charges.
The case was presented to the District Attorney's Office and a bench warrant was issued for Pena for the three felonies. Rancho Cucamonga detectives received a tip which led to the arrest of Pena on December 17th by Barstow Police Department at a hotel in Barstow. A search warrant was served at Pena's residence and evidence was recovered. Pena is being held in lieu of a $500,000 bail.
Detectives are releasing the current booking photo of Pena. If anyone has been victimized by Omar Pena, or if anyone has information related to this case, they are urged to contact the Rancho Cucamonga Police Department. Callers wishing to remain anonymous can call the We-tip Hotline at 1-800-78-CRIME (27463) or you may leave information at www.wetip.com.
Refer: Detective Pahia
Station: Rancho Cucamonga Police Department
Phone No. (909) 477-2800
Report: 111814486
John McMahon, Sheriff-Coroner
San Bernardino County Sheriff-Coroner Department