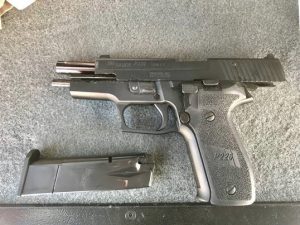 DATE/TIME: Monday, June 4, 2018
INCIDENT: Felon in Possession of a Firearm
Probation Violation
LOCATION: 8900 block of 19th Street, Rancho Cucamonga
SUSPECT: Tony Chism, age 39 a resident of Rancho Cucamonga
SUMMARY:
On June 4, 2018, deputies from the Rancho Cucamonga Multiple Enforcement Team, assisted by the San Bernardino County Probation Department, conducted probation compliance checks in the City of Rancho Cucamonga. Deputies conducted a probation compliance check on Tony Chism who is currently on Post Release Community Supervision for narcotics sales. During the compliance check, a stolen firearm was located inside of Chism's residence.
Chism was arrested, transported and booked into the West Valley Detention Center for Felon in Possession of a Firearm, and probation violation and is being held without bail.
As part of Governor Brown's Realignment Plan, or Assembly Bill 109, to comply with a U.S. Supreme Court decision requiring the state to lower its prison population by 30,000; offenders with non-violent, non-sexual and non-serious convictions will serve reduced sentences in county jails and be placed on local supervision through county Probation.
Anyone with information regarding this investigation is urged to contact the Rancho Cucamonga Multiple Enforcement Team (909) 477-2800. Callers wishing to remain anonymous are urged to call the We-Tip Hotline at 1-800-78-CRIME (27463) or leave information on the We-Tip website at www.wetip.com.
Refer: Rancho Cucamonga Multiple Enforcement Team
Station: Rancho Cucamonga Police Department
Phone No.: (909) 4778-2800
DR #111806965
JOHN McMAHON, Sheriff-Coroner
San Bernardino County Sheriff-Coroner Department