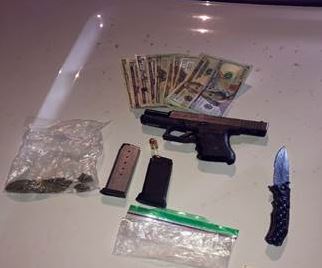 DATE/TIME: May 8, 2019 / 11:41 p.m.
INCIDENT: HS11370.1(A)- Possession of a Controlled Substance While Armed
LOCATION: Amberwood Drive / Hawthorne Street
SUSPECT: Shalina Doriana Humphrey, 33-years-old from Barstow
SUMMARY:
On Wednesday, May 8, 2019, at approximately 11:41 p.m., Sergeant P. Jacome conducted a traffic stop on a vehicle with expired registration. The driver was identified as Shalina Humphrey from the city of Barstow.
During a search of Humphrey's vehicle, deputies located a loaded .45 caliber Glock handgun underneath the driver's seat and a KAHR .45 caliber magazine in the back seat. Approximately 13 grams of methamphetamine, a small amount of marijuana, a glass pipe and $305.00 were also located in the vehicle. Through investigation it was discovered the Glock was stolen out of Las Vegas, Nevada.
Through further investigation, Humphrey was found to have an unrelated active warrant for her arrest and she is a convicted felon. She was arrested and booked into the West Valley Detention Center and is being held in lieu of $60,000 bail.
Anyone with information regarding this investigation is urged to contact the Rancho Cucamonga Police Department. Callers wishing to remain anonymous can call the We-tip Hotline at 1-800-78-CRIME (27463) or you may leave information at www.wetip.com.
Refer: Deputy H. Reyes
Deputy M. Martinez-Nava
Station: Rancho Cucamonga Police Department
Phone No. (909) 477-2800
Report: 111906177
John McMahon, Sheriff-CoronerSan Bernardino County Sheriff-Coroner Department