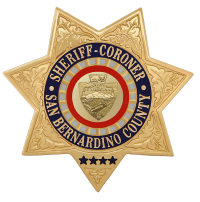 San Bernardino County Sheriff's Department
Press Release
DATE: April 11, 2018/ 3:29 p.m.
INCIDENT: Possession of a Stolen Vehicle
Violation of PRCS
Violation of Probation
LOCATION: Foothill Boulevard and Interstate 15 Freeway, Rancho Cucamonga
SUSPECT: Shawn Walter Smith, 23 year-old from Rancho Cucamonga
Summary
On April 11, 2018, at 3:29 p.m., Deputy Pederson from the Rancho Cucamonga Police Department conducted a traffic stop of a silver 2013 Honda Civic displaying paper plates. The deputy identified Smith as the driver of the vehicle. During a records check of the car, Deputy Pederson learned the vehicle Smith was driving was reported stolen from the city of Fontana in October 2017.
Smith is currently on Post Release Community Supervision and Felony Probation. He was arrested for being in possession of a stolen vehicle, PRCS violation, and Probation violation, and was booked into West Valley Detention Center. His bail is $50,000.
Anyone with information regarding this investigation is urged to contact the Rancho Cucamonga Police Department. Callers wishing to remain anonymous can call the We-tip Hotline at 1-800-78-CRIME (27463), or you may leave information at www.wetip.com.
Refer: Deputy Pederson
Station: Rancho Cucamonga Police Department
Phone No. (909)477-2800
Report: 111804581
John McMahon, Sheriff-Coroner
San Bernardino County Sheriff-Coroner Department
Sheriff's Public Affairs Division
655 E. Third Street
San Bernardino, California 92415-0061
Telephone: (909) 387-3700