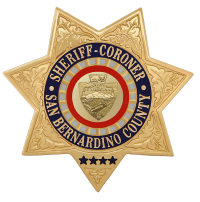 San Bernardino County Sheriff's Department
Press Release
DATE: February 23, 2018/ 2:30 p.m.
INCIDENT: Possession of a Stolen Vehicle
Vehicle Theft
LOCATION: Day Creek Blvd. and Foothill Blvd., Rancho Cucamonga
SUSPECT: Rudy Robert Leyva, 28-year-old from San Bernardino
Joed Omar Torres, 34-year-old from Pomona
Summary
On February 23, 2018, at 2:30 p.m., while performing their routine patrol duties, deputies from the Rancho Cucamonga Police Department located a stolen vehicle occupied by two male subjects on Day Creek Boulevard and Foothill Boulevard. The silver 2016 Chevrolet Malibu was reported stolen from the City of Norwalk.
Deputies followed the vehicle and waited for additional patrol units to respond to conduct a traffic stop. The driver of the stolen vehicle pulled into a gas station on Baseline Road and Americana Way in the City of Fontana before the traffic stop was initiated. The deputies made contact with Leyva and Torres and quickly took them into custody.
Leyva and Torres were booked into West Valley Detention Center, with a bail of $50,000 each.
Anyone with information regarding this investigation is urged to contact the Rancho Cucamonga Police Department. Callers wishing to remain anonymous are urged to call the We-tip Hotline at 1-800-78-CRIME (27463), or you may leave information at www.wetip.com.
Refer: Deputy Jasso
Station: Rancho Cucamonga
Phone No. (909)477-2800
Report: 111802391
John McMahon, Sheriff-Coroner
San Bernardino County Sheriff-Coroner Department
Sheriff's Public Affairs Division
655 E. Third Street
San Bernardino, California 92415-0061
Telephone: (909) 387-3700