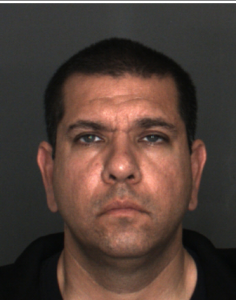 DATE/TIME: January 24, 2019 / 11:33 p.m.
INCIDENT: PC459 – Residential Burglary
VC10851 – Grand Theft Auto
PC594 – Vandalism
LOCATION: 12400 block of Solaris Drive
SUSPECT: Richard Chandroo, 42-years-old from Fontana
SUMMARY:
On Sunday, January 6, 2019, at approximately 11:33 p.m., deputies from the Rancho Cucamonga Police Department responded to the 12400 block of Solaris Drive for the report of a stolen vehicle. The victim reported his vehicle was stolen from his open garage. The incident was caught on surveillance video. The suspect rammed the vehicle through a locked gate at the condominium complex while fleeing the scene. The suspect later returned to the victim's residence and entered the locked garage attempting to steal the victim's motorcycle but was unsuccessful. The victim released the video onto social media asking for the public's assistance in identifying the suspect.
On January 10, 2019, a local news channel aired the video on television. On January 11, 2019, Rancho Cucamonga Detectives received a tip that the suspect was Richard Chandroo. Detectives conducted an investigation in the case, and were able to positively identify the suspect as Richard Chandroo, a 42-year-old male from Fontana, CA.
Detectives obtained an arrest warrant for Chandroo. With the assistance of officers from the Fontana Police Department's Fugitive Apprehension Team, Chandroo was located and arrested in the City of Fontana on January 23, 2019. He is currently in custody at the West Valley Detention Center in lieu of $250,000 bail.
Further investigation revealed that Chandroo is a licensed real estate agent for a local real estate office in Rancho Cucamonga. It is believed he has access to numerous homes through his real estate employment and may be responsible for additional thefts.
Detectives are releasing the current booking photo of Chandroo. If anyone believes they have been victimized or has information regarding this investigation is urged to contact the Rancho Cucamonga Police Department. Callers wishing to remain anonymous can call the We-tip Hotline at 1-800-78-CRIME (27463) or you may leave information at www.wetip.com.
Refer: Detective D. Patton
Station: Rancho Cucamonga Police Department
Phone No. (909) 477-2800
Report: 111900295
John McMahon, Sheriff-Coroner
San Bernardino County Sheriff-Coroner Department