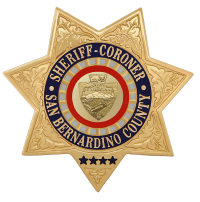 San Bernardino County Sheriff's Department
Press Release
DATE: March 31, 2018/ 4:41 a.m.
INCIDENT:Robbery
LOCATION:7800 block of Milliken Avenue, Rancho Cucamonga
SUSPECT:Daniel Patrick Morrissette, 18 year-old from Fontana
Jonathan Casey, 18 year-old from Fontana
Mylon Marquis Lavender, 19 year-old from Rancho Cucamonga
Drew James Espino, 18 year-old from Rancho Cucamonga
Black male juvenile, 17year-old from Rancho Cucamonga
Summary
On March 31, 2018, at 4:41 a.m., deputies from the Rancho Cucamonga Police Department, responded to the 7800 block of Milliken Avenue for a robbery. Deputies made contact with the victim who said he was punched and kicked by five suspects. The suspects took the victim's wallet and jewelry and fled the scene in a white compact vehicle.
The victim later contacted the Fontana Police Department to let them know the robbery suspects were parked near his home. Fontana Police Department officers responded and detained the five suspects. Deputies responded to where the suspects were detained and took custody of Morrissette, Casey, Lavender, Espino, and one Black male juvenile.
The four adult suspects were booked into West Valley Detention Center with their bail amounts of $100,000 each. Casey was also booked for an outstanding warrant. The male juvenile was booked into the San Bernardino County Juvenile Detention Center.
Anyone with information regarding this investigation is urged to contact the Rancho Cucamonga Police Department.Callers wishing to remain anonymous can call the We-tip Hotline at 1-800-78-CRIME (27463) or you may leave information at www.wetip.com.
Refer: Deputy Habell and Detective Fortier
Station:Rancho Cucamonga Police Department
Phone No. (909)477-2800
Report:111804033
John McMahon, Sheriff-Coroner
San Bernardino County Sheriff-Coroner Department
Sheriff's Public Affairs Division
655 E. Third Street
San Bernardino, California 92415-0061
Telephone: (909) 387-3700