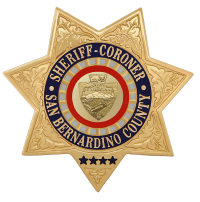 San Bernardino County Sheriff's Department
Press Release
DATE: April 13, 2018/ 8:07 p.m.
INCIDENT: Robbery
Possession of Cocaine for Sales
Felon in Possession of Ammunition
LOCATION: 12500 block of North Mainstreet, Rancho Cucamonga
SUSPECT: Sherman Rayford Steverson, 18-year-old from Montclair
Raymond Oliver Steverson, 56-year-old from Montclair
Summary
On April 13, 2018, 8:07 p.m., deputies from the Rancho Cucamonga Police Department responded to the 12500 block of North Mainstreet regarding a fight at the AMC Theatre. Several juveniles left the theatre and ran toward the Victoria Gardens Cultural Center courtyard. Deputy Erwin located a 15-year-old male victim who had his $600 backpack stolen. The victim said Sherman Steverson and three other unknown black male subjects confronted him when Sherman pointed a gun at the victim and demanded the backpack. The victim was reluctant to hand over his backpack but eventually complied with Sherman's demand.
The deputies sought a warrant for Sherman's arrest after he was positively identified as one of the suspects. On April 17, 2018, Deputy Bilbao, along with deputies from the Multi-Enforcement Team served the arrest warrant for Sherman at his home in the 4500 block of Hawthorne St. in Montclair. They met Raymond Steverson, Sherman's father, who refused to cooperate with the deputies and denied them access to his home. A search warrant was written and served at the home. Sherman was located inside the house and was taken into custody.
During the search of the residence, deputies located the victim's stolen backpack, a replica handgun and ammunition in Sherman's bedroom. Deputies found cocaine, a scale, ammunition and a significant amount of cash inside of Raymond's bedroom.
Sherman and Raymond were booked into the West Valley Detention Center. Sherman was booked for the robbery, with a $250,000 bail. Raymond was booked for possession of cocaine for sales and being a felon in possession of ammunition, with a $50,000 bail.
Anyone with information regarding this investigation is urged to contact the Rancho Cucamonga Police Department. Callers wishing to remain anonymous can call the We-tip Hotline at 1-800-78-CRIME (27463), or you may leave information at www.wetip.com.
Refer: Deputy Erwin and Deputy Bilbao
Station: Rancho Cucamonga Police Department
Phone No. (909)477-2800
Report: 111804693 and 111804874
John McMahon, Sheriff-Coroner
San Bernardino County Sheriff-Coroner Department
Sheriff's Public Affairs Division
655 E. Third Street
San Bernardino, California 92415-0061
Telephone: (909) 387-3700