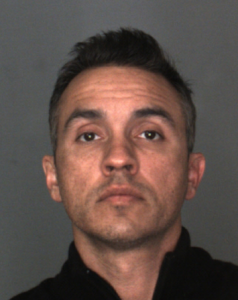 DATE/TIME: November 20, 2018 9:00 a.m.
INCIDENT: Residential Burglary
LOCATION: 1200 Block of Yosemite Drive, Lake Arrowhead
SUSPECT: Michael John Garcia, 40 year old resident of San Dimas
SUMMARY:
On August 9, 2016, Deputy Isiordia of the San Bernardino County Sheriff's Department took a burglary report and documented an unknown suspect entered the victim's vacation property while the victim was away and stole $1,100 worth of television sets. The suspect gained entry to the residence after accessing a key kept on the property inside the realtor/property manager's lock box. Deputy Isiordia collected DNA evidence obtained from a beer can left at the scene by the suspect.
On November 14, 2018, the Twin Peaks Investigations Division received a DNA hit notification from CODIS regarding the August 9, 2016 burglary report. The CODIS hit linked the DNA to Michael John Garcia.
A record check of Garcia revealed he is on active felony probation because of a separate burglary where Garcia posed as a realtor and gained access to the victim's home via the realtor's lock box. This incident occurred in the Twin Peaks jurisdiction in September 2018.
On November 20, 2018, Garcia was located and interviewed regarding the 2016 case. Garcia could offer no viable explanation as to why his DNA was located at the crime scene. Garcia was attested and booked into the Central Detention Center.
Anyone with additional information regarding this incident or similar incidents, please contact the Investigations Division at the Twin Peaks Station at (909) 336-0600.
Refer: Investigations Division
Station: Twin Peaks Sheriff's Station
Phone No. (909) 336-0600
Case No. 051601380/051801565
JOHN McMAHON, Sheriff-Coroner
San Bernardino County Sheriff-Coroner Department