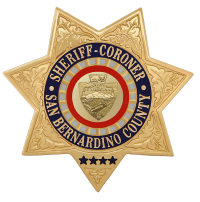 San Bernardino County Sheriff's Department
Press Release
DATE/TIME: January 17, 2018 11:30am
INCIDENT: Plane Down
LOCATION: Sky Park at Santa's Village 28950 State Hwy 18, Sky Forest, California
Summary
On Wednesday, January 17, 2018, at approximately 11:30 am, the Twin Peaks Station and fire personnel were dispatched to Sky Park at Santa's Village in reference to a plane crash landing in the parking lot. The small, single-engine aircraft left the San Bernardino Airport heading to Big Bear, California with four passengers on board. According to the pilot and occupants of the aircraft, the plane experienced some severe downward drafts shortly after take-off. Unable to gain the proper altitude to return to the airport safely, the pilot made the decision to perform an emergency landing on a dirt berm located in the North/West corner of the Santa's Village parking lot.
After landing, all four occupants were able to exit the plane. The pilot and front passenger sustained minor injuries in the crash, while the two rear passengers were unharmed. EMT trained staff from Sky Park quickly rendered medical aid to the injured parties and stabilized them until the fire department arrived on scene. The Running Springs Fire Department transported the two injured parties to a local area hospital.
Deputy Olivas from the Twin Peaks Station assumed the investigation on behalf of the sheriff's department. San Bernardino County Sheriff's Aviation Division also responded to the scene and assisted Deputy Olivas with the investigation. The National Transportation Safety Board (NTSB) and the Federal Aviation Administration were notified of the incident and will be conducting an investigation.
If you have additional information about the crash, please contact Deputy Olivas at the Twin Peaks Station 909-336-0600.
Refer: Public Information Officer Gil Flores or Deputy Olivas
Station: Twin Peaks Station
Case #: 051800094
Phone No. 909-336-0600
John McMahon, Sheriff-Coroner
San Bernardino County Sheriff-Coroner Department
Sheriff's Public Affairs Division
655 E. Third Street
San Bernardino, California 92415-0061
Telephone: (909) 387-3700