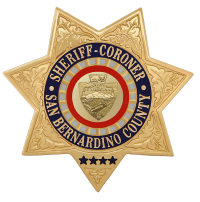 San Bernardino County Sheriff's Department
Press Release
DATE/TIME: October 6, 2016 10:16 pm
INCIDENT: Burglary / Possession of Stolen Property
LOCATION: 200 Block of Augusta Ct., Lake Arrowhead
SUSPECT(S): 14-year-old Juvenile
Summary
On October 6, 2016, at approximately 10:16 pm, deputies from the Twin Peaks Station responded to the 200 Block of Augusta Court, in the community Twin Peaks, reference a residential burglary report. The victim stated between September 9th and October 6th, an unknown suspect forcibly entered the victim's residence by kicking the front door. The suspect entered the victim's residence and stole a Dell laptop computer, computer mouse and computer power cord. The victim also stated the suspect rummaged through the residence. The victim did not give anyone permission to enter the residence and take the property. The estimated cost of the property was $900.00.
Through the course of the investigation, deputies learned a 14-year-old juvenile was seen on the victim's property during the time frame of the burglary. Deputies discovered where the suspect lived and made contact with him at his residence. During a consent search of the residence, deputies located the stolen property inside the suspect's residence. The juvenile was released on a citation for Burglary and Possession of Stolen Property to his legal guardian. Deputies were able to return the stolen property back to the victim.
The case will be submitted to the San Bernardino County Juvenile District Attorney's office for review and filing.
If you have any information regarding this case, please contact Deputy Jonathan Cavender at the Twin Peaks Station, (909) 336-0600 or WeTip 1-800-78-CRIME.
Booking photo available: https://local.nixle.com/alert/5749532/
Refer: Deputy Jonathan Cavender or Public Information Officer Gil Flores
Station: Twin Peaks Sheriff's Station
Case #: 051601720
Phone No. (909) 336-0600
JOHN McMAHON, Sheriff-Coroner
San Bernardino County Sheriff-Coroner Department
Address/Location
SBSD – Twin Peaks Sheriff's Department
26010 CA-189
John McMahon, Sheriff-Coroner
San Bernardino County Sheriff-Coroner Department
Sheriff's Public Affairs Division
655 E. Third Street
San Bernardino, California 92415-0061
Telephone: (909) 387-3700