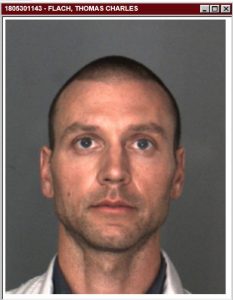 DATE/TIME: ​    May 22, 2018    5:30 p.m.​
INCIDENT: ​   PC 243.4(C) Sexual Battery by Medical Professional
LOCATION: ​    Arrowhead Acupuncture, 29000 Block of Hospital Road, Lake Arrowhead ​
SUSPECT(S):   Thomas Flach, a 39-year-old resident of Running Springs​  
VICTIM:​   Confidential
SUMMARY:
On Monday, May 21, 2018, a 51-year-old female went to the Twin Peaks Station to report unwanted sexual contact during a medical procedure at Arrowhead Acupuncture, in the community of Lake Arrowhead. Detectives from the Twin Peaks Station investigated the reported assault. The investigation revealed Thomas Flach, the owner of Arrowhead Acupuncture, had sexually assaulted the victimwhile she was lying face down on an examination table. The victim was unaware of his intention before the unwanted sexual contact. Flach offered to provide "sexual relief" to the victim during the acupuncture treatment.  
On Tuesday, May 22, 2018, detectives corroborated the victim's account of the assault. Thomas Flach was arrested and booked into the Central Detention Center in San Bernardino for violation of PC 243.4(C)- Sexual Battery by a Medical Professional. Flach was released from custody after posting $50,000 bail.
The case will be submitted to the San Bernardino County District Attorney's office for review.
Flach has numerous clients under his care at Arrowhead Acupuncture. Detectives believe there may be additional victims who were sexually assaulted by Flach. If you have any information regarding this case, or have been a victim please contact Deputy Jonathan Cavender at the Twin Peaks Station at (909) 336-0600 or WeTip at 1-800-78-CRIME.
Refer:​  ​Sergeant Ryan Ford or Deputy Jonathan Cavender​
Station: ​Twin Peaks Sheriff's Station
Case #: ​051800874
Phone No. ​(909) 336-0600
​
JOHN McMAHON, Sheriff-Coroner
San Bernardino County Sheriff-Coroner Department​