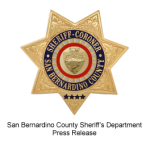 DATE/TIME:  August 16, 2018
INCIDENT:    PC 496, Possession of Stolen Property
PC 29810, Felon in Possession of a Firearm
PC 30305(A), Felon in Possession of Ammunition
LOCATION:   Fort Cady Road & Auklet Road, Newberry Springs
SUSPECT:    Stephen Gumpert,45 years of age, of Newberry Springs
Shawn Burge, 42 years of age, of Newberry Springs
SUMMARY:
On August 16, 2018 at approximately 9:42 P.M., Deputy Kenneth Bubier and Deputy Loran Keith contacted a suspicious vehicle parked in the area of Fort Cady Road and Auklet Road in Newberry Springs. The occupants of the vehicle, Stephen Gumpert and Shawn Burge, were detained after a records check determined the vehicle's license plate had been reported stolen in May of 2018 in Fontana, California.
A loaded twelve-gauge shotgun and shotgun rounds were located during a search of the vehicle. Burge was subsequently arrested for being a felon in possession of a weapon and ammunition. Gumpert was arrested for possession of stolen property and an unrelated outstanding warrant. The vehicle was determined to be an unreported stolen vehicle after the owner was contacted. Both subjects were transported to the Barstow Jail.
Anyone with information regarding this incident is urged to contact the Barstow Sheriff's Station at (760) 256-4838. Citizens wishing to remain anonymous may call the We-Tip Hotline at 1-800-78-CRIME (27463), or leave information on the We-Tip website at www.wetip.com.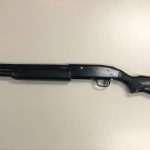 Refer:                          Deputy Kenneth Bubier, Deputy Keith Loran
Station:                        Barstow Sheriff's Station
Phone Number:          (760)256-4838
Case Number:            081801145, 081801146
John McMahon, Sheriff-Coroner
San Bernardino County Sheriff-Coroner Department