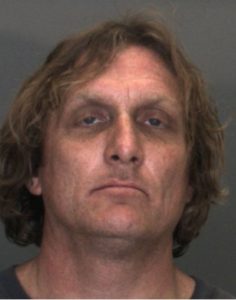 DATE/TIME OF INCIDENT: Thursday, June 21, 2018, at 5:45 a.m.
INCIDENT: BURGLARY
LOCATION: 2200 Block of Sunnyslope Road, in Pinon Hills
SUSPECT: Zachariah Pacillos, 44-year-old, a resident of Victorville
VICTIM: Male adult, 76-year-old, a resident of Pinon Hills
SUMMARY:
On June 16, 2018, and June 18, 2018, the elderly and disabled victim was home when his residence in was burglarized. The suspect, Zachariah Pacillos, entered the detached garage by breaking the entry door. Pacillos stole multiple items including ammunition and firearms. During that time, Pacillos attempted to access a locked safe but was unsuccessful. On June 21, 2018, at 5:45 a.m., Pacillos returned to the residence with multiple tools capable of breaking into the safe. The victim called sheriff's dispatch, and deputies from the Phelan Sub-Station arrived at the residence within minutes and apprehended Pacillos.
Pacillos was released from custody in February 2018, to Post Release Community Supervision under AB 109 prison realignment. As a term of his continued release from custody, after he could not be found by the San Bernardino County Probation Department at his listed residence, was the addition of GPS monitoring through an ankle bracelet.
A joint effort of the San Bernardino County Sheriff's Department – Victor Valley Station and the Regional Gang Task force resulted in search warrants being served at Pacillos' residence and other locations he frequented. As a result, some stolen evidence was recovered. Pacillos was booked at the High Desert Detention Center for Burglary and Elder Abuse. Pacillos' bail was set at $125,000.00.
Investigators are looking for any additional victims. Anyone with information regarding this crime is urged to contact Detective J. Gernon, Phelan Sub-Station, (760) 868-1006. Persons wishing to remain anonymous can report information to WeTip by calling 1-800-78-CRIME, or by accessing the website at www.wetip.com.
Refer: Staci Parks
Station: Victor Valley
Report # 071801951
Phone No: (760) 552-6845
JOHN MCMAHON, Sheriff-Coroner
San Bernardino County Sheriff-Coroner Department