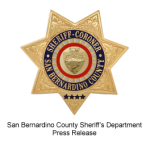 DATE/ TIME OF INCIDENT:  Tuesday, August 21, 2018, at 2:42am
INCIDENT:      ATTEMPT MURDER
LOCATION:    15200 Block of Alexandria Street, Adelanto
SUSPECT(s): Two black males wearing red and black clothing.  No other suspect description available.
VICTIM:          Male adult, 27 years-old, of Adelanto
SUMMARY:
On Tuesday, August 21, 2018, at 2:42am, deputies from the Victor Valley Sheriff's Station responded to a shooting in the 15200 block of Alexandria Street in Adelanto.
The victim saw two suspects attempting to break in to his vehicle that was parked on the curb outside his house.  He went outside to stop them, and the suspects attempted to flee on foot. The victim ran after them and the suspects shot at him, hitting him three times.  The victim was airlifted to a local hospital with gunshot wounds to his rib cage and left arm.
The suspects are described as black males, both wearing red and black clothing.
Anyone with information regarding this crime is urged to contact Deputy R. Jahn at Victor Valley Sheriff's Station, (760) 552-6800. Persons wishing to remain anonymous can report information to WeTip by calling 1-800-78-CRIME, or by accessing the website at www.wetip.com.
Refer:   Staci Parks
Station:  Victor Valley
Report #   241802208
Phone No:   760-552-6845
JOHN MCMAHON, Sheriff-Coroner
San Bernardino County Sheriff-Coroner Department