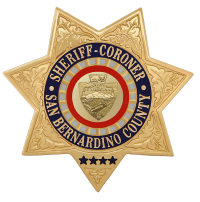 San Bernardino County Sheriff's Department
Press Release
DATE: February 28, 2018
INCIDENT: Special Enforcement-Traffic Operations
LOCATION: Multiple locations throughout the Victor Valley
Summary
Victorville Police Department's Traffic Division organized a multi-station traffic operation, focused on reducing traffic collisions.
The operation was conducted between November 22, 2017 and February 21, 2018. A total of 68 deputies from Victorville Police Department, Apple Valley Police Department, Hesperia Police Department, and the Victor Valley Sheriff's Station participated, putting in 680 total hours. All of the stations involved provided personnel without incurring additional costs for overtime or utilizing special grant funding.
Deputies concentrated on violations known to be primary collision factors in most traffic accidents such as, excessive speed, failure to stop at red lights and stop signs, and cell phone usage while driving. As a result of this effort a total of 969 citations were issued, 72 of which were for unlicensed drivers. Deputies also towed 58 vehicles for various violations over the four month period.
Due to the success, another similar operation is likely to begin in the spring. We will continue to raise awareness and enforce those laws that make the streets safer for our communities to drive on.
Refer: Mara Rodriguez, Media Relations Officer
Station: Victorville Police Department
Phone No. (760) 241-2911
JOHN MCMAHON, Sheriff-Coroner
San Bernardino County Sheriff-Coroner Department
John McMahon, Sheriff-Coroner
San Bernardino County Sheriff-Coroner Department
Sheriff's Public Affairs Division
655 E. Third Street
San Bernardino, California 92415-0061
Telephone: (909) 387-3700