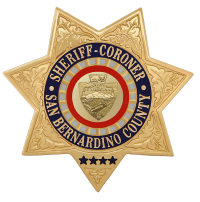 San Bernardino County Sheriff's Department
Press Release
DATE/TIME OF INCIDENT: Sunday, February 25, 2108, between 12:30am and 1:46am
INCIDENT: RAPE BY FORCE OR FEAR
LOCATION: A residence in Pinon Hills
SUSPECT: 17-year-old male juvenile of Phelan
Summary
On Sunday, February 25, 2018, at 2:00 am, deputies from the Victor Valley Sheriff's Station received a report of a rape that had occurred at a residence in Pinon Hills.
Deputies were advised by the victim, a 17-year-old female, that she had attended a birthday party at a residence in Pinon Hills. The suspect, and a 17-year-old male, who she knew before the party were drinking and smoking marijuana along with other individuals at the party. Sometime between 12:30 am and 1:46 am, the victim went outside and the suspect followed her. The suspect then forcibly raped the victim, leaving her unresponsive outside on the driveway. The victim was transported to a local hospital for treatment. The suspect left the residence before deputies arrived.
On Monday, February 26, 2018, after a thorough investigation by Detective Jason Grantham, the 17-year-old suspect was arrested at school and booked at the High Desert Detention Center for Rape. The investigation is ongoing and additional charges are pending.
Anyone with information regarding this crime is urged to contact Detective Jason Grantham at Victor Valley Sheriff's Station, (760) 552-6800. Persons wishing to remain anonymous can report information to WeTip by calling 1-800-78-CRIME, or by accessing the website at www.wetip.com.
John McMahon, Sheriff-Coroner
San Bernardino County Sheriff-Coroner Department
Sheriff's Public Affairs Division
655 E. Third Street
San Bernardino, California 92415-0061
Telephone: (909) 387-3700