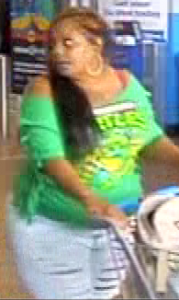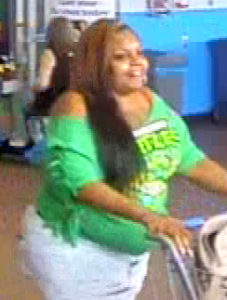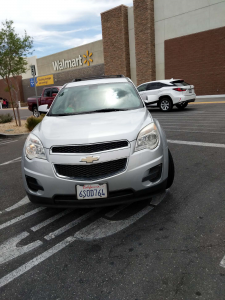 DATE/TIME: May 6, 2018 / 2:15 p.m.
INCIDENT: Assault with a Caustic Chemical
LOCATION: 11800 block of Amargosa Road, Victorville
SUSPECT(S): Unknown, black adult female
VICTIM(S): Confidential
SUMMARY: On May 6, 2018, at approximately 2:15pm, an unknown female assaulted another female in the parking lot of Walmart at 11896 Amargosa Road. The driver of a silver Chevrolet accused the victim of hitting her car with a shopping cart. The passenger of the Chevrolet then got out of the car and punched the victim in the face and sprayed her with an unknown chemical. The suspect returned to the car and she and the driver left the area.
The suspect was described as a heavy set black female in her late 20's or early 30's. She was last seen wearing a green Teenage Mutant Ninja Turtles t-shirt and light blue, ripped jeans. The driver was described as a black female adult, last seen wearing a white halter top with flowers on it and large hoop earrings. She had long fingernails which were painted red and yellow. The involved vehicle was a 2011 silver Chevrolet Equinox, license plate number 6SOD764.
Investigators are attempting to identify the suspect and driver and ask that anyone with information about this incident or the parties involved contact Deputy Z. Pritchett at the Victorville Police Department, (760) 241-2911. Callers wishing to remain anonymous are urged to call the We-Tip Hotline at 1-800-78CRIME (27463) or you may leave information on the We-Tip website at www.wetip.com.
Refer: Mara Rodriguez, Media Relations Officer
Station: Victorville Police Department
Case #: 171804881
Phone No. (760) 241-2911
JOHN MCMAHON, Sheriff-Coroner
San Bernardino County Sheriff-Coroner Department