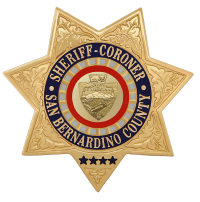 San Bernardino County Sheriff's Department
Press Release
DATE/TIME: April 1, 2018 / 1:40 a.m.
INCIDENT: Attempted Murder
LOCATION: 16100 block of Tawney Ridge Lane
Mojave Drive, near West Trail
SUSPECT(S): 17-year old Hispanic male, Victorville resident
15-year old Hispanic male, Victorville resident
Three unknown Hispanic males
VICTIM(S): Confidential – 16-year old black male
30-year old black male
Summary
On April 1, 2018 at 1:40 am, deputies from the Victorville Police Department responded to the 16100 block of Tawney Ridge Lane, for a 16-year old male who had been shot.
When deputies arrived they learned the victim had been walking with a female friend nearby, when they were approached by five Hispanic males in a white sedan. The male suspects exited the car and two of them began questioning the victim, asking where he was from, while the others held the female. The victim tried to run from the suspects and was shot multiple times. The suspects took the victim's backpack, returned to the car, and left. The victim and the female went to the Tawney Ridge Lane location, where he collapsed in the front yard. The victim was transported to a nearby trauma center for treatment and is in stable condition.
At approximately 2:12 a.m., while deputies were investigating the shooting near Tawney Ridge, Sheriff's Dispatch received a call of a man down on Mojave Drive, near West Trail. When deputies arrived they found a 30-year old male who had been shot multiple times. During the deputies investigation they discovered the same suspects were responsible for both shootings. The victim was transported to a nearby trauma center and is in stable condition, at this time.
A vehicle matching the description of the suspect vehicle was spotted at approximately 5:30 a.m., near Mojave Drive and La Paz Drive. A traffic stop was conducted and the occupants of the vehicle, two male juveniles, were taken into custody.
Detectives confirmed the juveniles were two of the five suspects being sought for the shootings. They were both arrested and booked at High Desert Juvenile Detention Center, for attempted murder. Both are believed to have ties to a local gang.
It is believed the suspects are tied to other criminal cases in Victorville and possibly other areas of the High Desert. Three suspects are still outstanding and Detectives are urging anyone with information about this investigation to contact Detective D. Maddox, at the Victorville Police Department, (760) 241-2911 or Sheriff's Dispatch, (760) 956-5001. Callers wishing to remain anonymous are urged to call the We-Tip Hotline at 1-800-78CRIME (27463) or you may leave information on the We-Tip website at www.wetip.com.
Refer: Mara Rodriguez, Media Relations Officer
Station: Victorville Police Department
Case #: 171803574 / 171803579
Phone No. (760) 241-2911
John McMahon, Sheriff-Coroner
San Bernardino County Sheriff-Coroner Department
Sheriff's Public Affairs Division
655 E. Third Street
San Bernardino, California 92415-0061
Telephone: (909) 387-3700