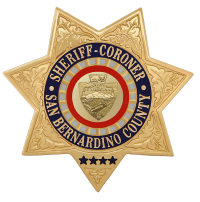 San Bernardino County Sheriff's Department
Press Release
DATE/TIME: February 25, 2018 / 2:31 a.m.
INCIDENT: Hit and Run with Injuries
LOCATION: Mariposa Road/Nisqualli Road
SUSPECT(S): Unknown
VICTIM(S): San Bernardino County Sheriff's Deputy
Summary
On February 25, 2018, at approximately 2:31 a.m., an on-duty deputy, from the Victorville Police Department, was involved in a hit and run traffic collision at the intersection of Mariposa Road and Nisqualli Road.
The deputy was traveling south on Mariposa Road. As he entered the intersection at Nisqualli Road his patrol vehicle was struck by a pick-up truck traveling west on Nisqualli Road, when the driver of the pick-up failed to stop for the red light. The driver of the pick-up did not stop after colliding with the deputy.
The pick-up was last seen entering northbound Interstate 15 freeway. An extensive area search was conducted but the driver and vehicle remain outstanding. The deputy was transported to a local hospital for treatment and later released.
The pick-up truck is believed to be a late model, 4-door, Chevrolet Silverado, black or dark colored. It should have extensive damage to the front passenger side area.
Anyone with information about this investigation is asked to contact Deputy Adam Hylin at the Victorville Police Department, (760) 241-2911. Callers wishing to remain anonymous are urged to call the We-Tip Hotline at 1-800-78CRIME (27463) or you may leave information on the We-Tip website at www.wetip.com.
Refer: Mara Rodriguez, Media Relations Officer
Station: Victorville Police Department
Case #: 171802230
Phone No. (760) 241-2911
John McMahon, Sheriff-Coroner
San Bernardino County Sheriff-Coroner Department
Sheriff's Public Affairs Division
655 E. Third Street
San Bernardino, California 92415-0061
Telephone: (909) 387-3700