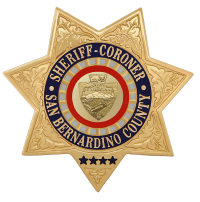 San Bernardino County Sheriff's Department
Press Release
DATE/TIME: Sunday, February 25, 2018 / 3:30 p.m.
INCIDENT: Search Warrant – Indoor Cannabis/Marijuana Grow
LOCATION: 13700 Block Grotto Hills Lane, Victorville
SUSPECT(S): * Ongoing investigation *
Summary
The San Bernardino County Sheriff's Department – Marijuana Enforcement Team (MET) and deputies from the Victorville Police Department served a search warrant at a residence in the 13700 block of Grotto Hills Lane in Victorville after learning about illegal narcotic activity occurring. Investigators found a large-scale indoor marijuana grow inside the residence with over 1,400 marijuana plants and over 30 pounds of processed marijuana. The grow operation used advanced lighting, air conditioning, fans, exhaust blowers and an air-filtering system to control the climate and odor of marijuana inside the residence. Evidence found at the scene suggests the grow operation was operating for several months. Investigators are following up on suspect leads to identify those responsible for the operation.
California's newest form of marijuana laws, known as MAUCRSA, went into full effect on January 1st. The City of Victorville has an ordinance prohibiting Commercial Cannabis Activity which includes growing more than six marijuana plants at a residence. Additional information regarding what is allowed can be found in the Victorville Municipal Code in Chapter 13.150 – Commercial Cannabis Activity.
Generally, large marijuana grows, such as this one, require local and state licensing and are not permitted in a residential zone. No licenses have been issued to the tenants or property owners. The suspect(s) will face criminal charges for the illegal Cultivation of Cannabis; over 6 plants, Sales/Transportation of Cannabis and Vandalism to Property.
Anyone with information regarding this investigation or is urged to contact the Sheriff's Gangs/Narcotics Division at (909)387-8400 or NARC-MET@sbcsd.org. Callers wishing to remain anonymous are urged to call the We-tip Hotline at 1-800-78-CRIME (27463) or you may leave information on the We-Tip Hotline at www.wetip.com.
Refer: Sheriff's Public Affairs
DR #: 651800091
Phone No. (909)387-3700
John McMahon, Sheriff-Coroner
San Bernardino County Sheriff-Coroner Department
Sheriff's Public Affairs Division
655 E. Third Street
San Bernardino, California 92415-0061
Telephone: (909) 387-3700