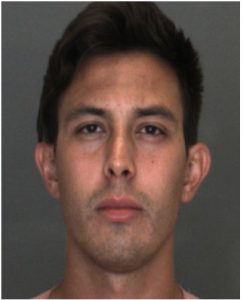 DATE/TIME: May 8, 2018 / 9:41 p.m.
INCIDENT: Sodomy, Lewd and Lascivious Acts with a Child, Oral Copulation
LOCATION: 14300 block of McArt Road, Victorville
SUSPECT(S): Victor Rodriguez, 25-year old Victorville resident
VICTIM(S): Confidential, 15-year old female
SUMMARY: On May 8, 2018, deputies from the Victorville Police Department responded to a report of a sex crime against a child. The victim's mother discovered her daughter had been having a sexual relationship with her club soccer coach, after looking through her text messages. Through investigation, it was learned the victim and suspect, 25-year old Victor Rodriguez, had been involved in the relationship for over a year.
Rodriguez was detained at his home in the 14300 block of McArt Road and transported to the Victorville Police Department where he was interviewed. Rodriguez was subsequently arrested and booked at High Desert Detention Center for sodomy, lewd and lascivious acts with a child, and oral copulation. He is scheduled to appear in Victorville Superior Court on May 11, 2018.
A photo of Rodriguez is being released, as it is believed there may be additional victims. Anyone with information about this investigation is asked to contact Detective M. Gardea at the Victorville Police Department, (760) 241-2911. Callers wishing to remain anonymous are urged to call the We-Tip Hotline at 1-800-78CRIME (27463) or you may leave information on the We-Tip website at www.wetip.com.
Refer: Mara Rodriguez, Media Relations Officer
Station: Victorville Police Department
Case #: 171804965
Phone No. (760) 241-2911
JOHN MCMAHON, Sheriff-Coroner
San Bernardino County Sheriff-Coroner Department