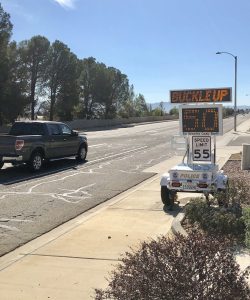 DATE/TIME: October 25, 2018
SUBJECT: Mobile Speed Display Trailers
SUMMARY:
The Victorville Police Department is excited to announce the acquisition of two speed display trailers. The units were purchased as a tool to aid deputies in increasing driver awareness and safety.
The speed trailers are equipped with radar to detect the speed of oncoming vehicles, which is displayed just above the posted speed limit for the location. In addition, each unit has a scrolling message board that can be customized to fit the need of the location or event where it is being utilized, for example construction zones, holiday weekend traffic, safety belt enforcement, or known speeding violation areas.
These mobile units will be placed in locations throughout the city, where excessive speed and unsafe driving habits have been noted. Motorists can also expect that if they are seeing one of these mobile units in use, deputies will be nearby conducting extra enforcement. As our population grows and the number of cars on our streets increase, we will continue to use all the tools available to us to maintain driver and pedestrian safety.
Victorville Police Department thanks you in advance for driving with care, to insure the safety of your loved ones and ours.
Refer: Mara Rodriguez, Media Relations
Station: Victorville Police Department
Phone No. (760) 241-2911
JOHN MCMAHON, Sheriff-Coroner
San Bernardino County Sheriff-Coroner Department