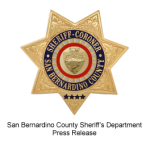 DATE/TIME:            Saturday, April 20, 2019/12:11 am
INCIDENT:              Murder Investigation
LOCATION:            16200 block of Bear Valley Road, Victorville
SUSPECT(S):         Unknown at this time
VICTIM:                  Eduardo Soto, age 27 a transient
SUMMARY:
On Saturday, April 20, 2019, at approximately 12:11 am, deputies from the Victorville Police Department responded to the parking lot of the 16200 block of Bear Valley Road following the report of shots heard.  Patrons from a local business ran outside after hearing shots fired and located the victim responsive with unknown injuries.  Upon arrival, a Sergeant began life-saving measures until fire personnel arrived on scene.  The victim was transported to a local area hospital where he was pronounced deceased.
Detectives from the Specialized Investigations Division, Homicide Detail responded to the scene to conduct the investigation.   The identity of the suspect(s) involved is unknown at this time.
Detectives are asking anyone who may have been in the area at or around the time of the shooting to contact the Specialized Investigations Division, Detective Mike Cleary at (909) 387-3589 or Sheriff's dispatch at (909) 387-8313. Callers can remain anonymous and contact We-Tip at (800)78-CRIME or www.wetip.com.
Refer:           Detective Mike Cleary or Sergeant Mike Walker
Station:         Specialized Investigations Division – Homicide Detail
Phone No.    (909) 387-3589
Case No.      171903396   H#2019-034
JOHN McMAHON, Sheriff-Coroner
San Bernardino County Sheriff-Coroner Department