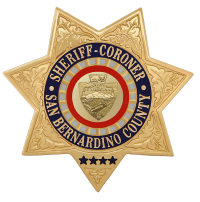 San Bernardino County Sheriff's Department
Press Release
DATE/TIME: April 22, 2018/12:32 pm
INCIDENT: Murder Investigation
LOCATION: 13000 High Crest Street, Victorville
VICTIM:Hyae Yu, age 76 a resident of Victorville
SUSPECT:William Yu, age 81 a resident of Victorville
Summary
On Sunday, April 22, 2018, at approximately 12:32 pm, deputies from the Victorville Police Department and emergency medical personnel responded to a residence in the 13000 block of High Crest Street in Victorville following the report of a shooting.Upon arrival, the victim, Hyae Yu, was found inside the residence suffering from an apparent gunshot wound.The victim was pronounced deceased at the location.
Deputies also found the suspect, William Yu, inside the residence.Deputies immediately detained Mr. Yu.
Detectives from the Specialized Investigations Division, Homicide Detail, responded to the location to conduct the investigation.Detectives interviewed Mr. Yu and determined he was responsible for the death of the victim.Hyae Yu and William Yu are husband and wife.Mr. Yu was subsequently arrested, transported and booked into the West Valley Detention Center for PC187 Murder, and is being held without bail.
The investigation is on-going, anyone with information regarding this incident is urged to contact Detective Tray Phillips or Sergeant Steven Pennington at (909)387-3589. Callers wishing to remain anonymous are urged to call the We-Tip Hotline at 1-800-78-CRIME (27463), or you may leave information on the We-Tip website at www.wetip.com.
Refer: Detective Tray Phillips or Sergeant Steven Pennington
Station: Specialized Investigations Division – Homicide Detail
Phone No. (909) 387-3589
Case No. DR #171804383 H #2018-024
John McMahon, Sheriff-Coroner
San Bernardino County Sheriff-Coroner Department
John McMahon, Sheriff-Coroner
San Bernardino County Sheriff-Coroner Department
Sheriff's Public Affairs Division
655 E. Third Street
San Bernardino, California 92415-0061
Telephone: (909) 387-3700