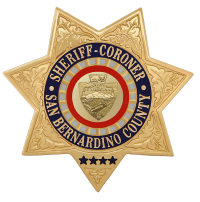 San Bernardino County Sheriff's Department
Press Release
DATE: April 3, 2018
ANNOUNCEMENT: Rick Bessinger appointed Captain of Victorville Police Department
Summary
With the recent retirement of Captain Jon Schuler, a new captain was assigned to take charge at the Victorville Police Department. On March 31, 2018, Captain Rick Bessinger, a 21-year veteran, of the San Bernardino County Sheriff's Department, officially assumed command of the station.
Captain Bessinger is coming to the Victorville Station after serving as the captain at High Desert Detention Center for the last fourteen months. During his career with the Sheriff's Department, Bessinger has excelled in multiple assignments. Some of those assignments include Sheriff's Homicide Division, West Valley Detention Center, patrol, and detective duties at various High Desert stations. He promoted to the rank of Sergeant in August 2008, which took him to High Desert Detention Center, Victorville Station, and back to the Homicide Division. In April 2014, Bessinger promoted to Lieutenant, followed by his promotion to Captain on January 21, 2017.
Bessinger will pick up the reigns and continue the successful partnership with the City of Victorville which was forged and nurtured by the Captains before him. Victorville Mayor, Gloria Garcia stated, "I have great admiration for Captain Schuler, and I appreciate his dedicated service to Victorville. We were fortunate to have a Police Chief so committed to our Community. Though we are sad to see him go, we wish Captain Schuler every happiness as he retires; and we look forward to welcoming Captain Bessinger to Victorville."
Everyone at the Victorville Police Department benefitted from the knowledge and leadership of Captain Schuler and wished him and his wife much happiness, as new retirees. Now, we look forward to working with Captain Bessinger and continuing to serve the community under his leadership.
Refer: Mara Rodriguez, Media Relations Officer
Station: Victorville Police Department
Phone No. (760) 241-2911
John McMahon, Sheriff-Coroner
San Bernardino County Sheriff-Coroner Department
Sheriff's Public Affairs Division
655 E. Third Street
San Bernardino, California 92415-0061
Telephone: (909) 387-3700