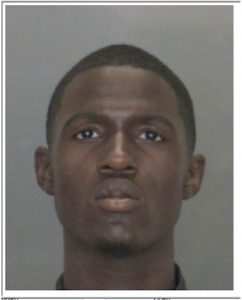 DATE/TIME: November 13, 2018 / 12:27pm
INCIDENT: Possession of Material Depicting a Minor Engaging in Sexual Conduct, Sending for Distribution; Matter Depicting Sexual Conduct by a Minor
LOCATION: 12400 block of Freeport Road, Victorville
SUSPECT(S): 10 individuals
Tyrese Williams Lawrence, 18-year old Victorville resident (At Large)
Derick Corleone Smith, 18-year old Adelanto resident
Four, 17-year old males
Three, 16-year old males
One, 15-year old male
VICTIM(S): 17-year old female
SUMMARY: On November 13, 2018, deputies from the Victorville Police Department were contacted by an administrator at Goodwill High School, regarding a video circulating on social media. The video depicted a 17-year old female student engaged in sexual conduct with several males.
Through investigation, deputies learned the female went to the home of Tyrese Williams Lawrence where the two engaged in sexual conduct. During that time, nine other males entered the room. Some of the males engaged in sexual conduct with the female while the others watched, at least one used a cell phone to record the incident. The video was shared among the group of males, as well as posted to social media.
An extensive investigation was launched leading to the arrest of Derick Corleone Smith and eight other male juveniles. Smith was booked at High Desert Detention Center. The juveniles were booked at High Desert Juvenile Detention Center.
Tyrese Williams Lawrence is still at large.  The Victorville Police Department is seeking the public's help in locating Lawrence.  Anyone with information on his whereabouts or about this investigation is asked to contact the Victorville Police Department at (760) 241-2911 or Sheriff's Dispatch at (760) 956-5001. Callers wishing to remain anonymous are urged to call the We-Tip Hotline at 1-800-78CRIME (27463) or you may leave information on the We-Tip website at www.wetip.com.
Refer: Mara Rodriguez, Media Relations
Station: Victorville Police Department
Case #: 171812549
Phone No. (760) 241-2911
JOHN MCMAHON, Sheriff-Coroner
San Bernardino County Sheriff-Coroner Department