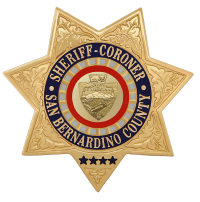 San Bernardino County Sheriff's Department
Press Release
DATE/TIME: April 14, 2018, 8:44 p.m.
INCIDENT: Receiving Known Stolen Property
LOCATION: 13000 block of Mesa Linda Avenue
SUSPECT(S): Tyson Blackmonrittmon, 20-year old Victorville resident
VICTIM(S): Confidential
Summary
On April 14, 2018, Deputies A. Arreola and A. Bandari, from the Victorville Police Department, conducted a vehicle check on a 2014 BMW parked in a school parking lot.
The deputies made contact with Tyson Blackmonrittmon, the driver of the BMW, and found him to be in possession of marijuana and other related paraphernalia. During the investigation, deputies discovered Blackmonrittmon had a possible stolen, semi-automatic rifle at his home. Deputies searched his home, with his consent, and located the loaded rifle. A check of records verified the rifle had been stolen during a Victorville home burglary, in April 2017.
Blackmonrittmon was arrested and booked at High Desert Detention Center for receiving known stolen property.
Anyone with information about this investigation is asked to contact the Victorville Police Department at (760) 241-2911. Callers wishing to remain anonymous are urged to call the We-Tip Hotline at 1-800-78CRIME (27463) or you may leave information on the We-Tip website at www.wetip.com.
Refer: Mara Rodriguez, Media Relations Officer
Station: Victorville Police Department
Case #: 171804079
Phone No. (760) 241-2911
John McMahon, Sheriff-Coroner
San Bernardino County Sheriff-Coroner Department
Sheriff's Public Affairs Division
655 E. Third Street
San Bernardino, California 92415-0061
Telephone: (909) 387-3700