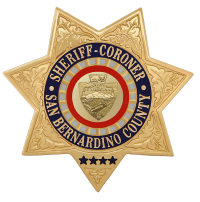 San Bernardino County Sheriff's Department
Press Release
DATE/TIME: April 15, 2018, 10:35 a.m.
INCIDENT: Robbery
LOCATION: 14100 block of US Highway 395
SUSPECT(S): Demareyae Hill, 19-year old Adelanto resident
Jamonte Lewis, 19-year old Barstow resident
Male Juvenile, 16-years old
VICTIM(S): Confidential-2 adult males
Summary
On April 15, 2018, deputies from the Victorville Police Department responded to a robbery that occurred in a shopping center in the 14100 block of US Highway 395.
The two male victims were in the parking lot near a restaurant when they were approached by two suspects, later identified as Demareyae Hill and a 16-year old male, who asked if they had change for $5.00. When the victim's said they did not have change, the suspects brandished handguns and demanded the victims give them money. Once they had the money, the suspects ran from the scene. They were seen getting into a white Lexus sedan. The victims were uninjured.
A short time later deputies spotted the suspect vehicle on D Street, near Interstate 15. The vehicle, driven by a third suspect, identified as Jamonte Lewis, was stopped without incident. All three suspects were detained at the scene. A search of the vehicle turned up a handgun believed to have been used in the robbery.
Hill and Lewis were arrested and booked at High Desert Detention Center for robbery. The juvenile was also arrested for robbery and booked at High Desert Juvenile Detention Center.
Anyone with information about this investigation is asked to contact the Victorville Police Department at (760) 241-2911. Callers wishing to remain anonymous are urged to call the We-Tip Hotline at 1-800-78CRIME (27463) or you may leave information on the We-Tip website at www.wetip.com.
Refer: Mara Rodriguez, Media Relations Officer
Station: Victorville Police Department
Case #: 171804100
Phone No. (760) 241-2911
John McMahon, Sheriff-Coroner
San Bernardino County Sheriff-Coroner Department
Sheriff's Public Affairs Division
655 E. Third Street
San Bernardino, California 92415-0061
Telephone: (909) 387-3700