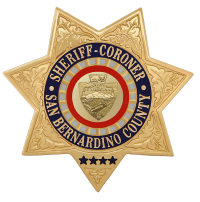 San Bernardino County Sheriff's Department
Press Release
DATE/TIME: March 24, 2018 / 2:44 a.m.
INCIDENT: Shooting at an Inhabited Dwelling, Possession of Stolen Property, Felon in Possession of a Firearm
LOCATION: 15500 block of Fresno Street
SUSPECT(S): Keshawn Johnson, 26-year old Adelanto resident
Unknown Black Male Adult
VICTIM(S): Confidential
Summary
On March 24, 2018, deputies from the Victorville Police Department responded to a disturbance call in the 15500 block of Fresno Street. Several callers reported hearing a fight near the location with subsequent callers reporting hearing gunfire.
Deputies arriving at the location saw a yellow Chevrolet Camaro leaving the area. Deputies attempted to stop the vehicle. The driver failed to yield, leading deputies on a short pursuit before crashing the vehicle. The driver and a passenger fled on foot after the crash. The passenger, identified as Keshawn Johnson, was detained after a short chase. Deputies were unable to locate the driver, an unknown black male, he remains at large.
Upon further investigation, deputies learned there had been a large party at the location. For unknown reasons a fight began, and multiple shots were fired, with at least one striking a residence. No gunshot victims were located at the scene nor identified during the investigation. During a search of the Camaro, deputies recovered two handguns, one of which had been reported stolen.
Keshawn Johnson was arrested and booked at High Desert Detention Center for shooting at an inhabited dwelling, possession of stolen property, and felon in possession of a firearm. He is scheduled to appear in Victorville Superior Court on March 27, 2018.
Detectives are trying to locate the driver of the yellow Camaro. Anyone with information about this investigation is asked to contact Detective D. Maddox at the Victorville Police Department, (760) 241-2911 or Sheriff's Dispatch, (760) 956-5001. Callers wishing to remain anonymous are urged to call the We-Tip Hotline at 1-800-78CRIME (27463), or you may leave information on the We-Tip website at www.wetip.com.
Refer: Mara Rodriguez, Media Relations Officer
Station: Victorville Police Department
Case #: 171803270
Phone No. (760) 241-2911
John McMahon, Sheriff-Coroner
San Bernardino County Sheriff-Coroner Department
Sheriff's Public Affairs Division
655 E. Third Street
San Bernardino, California 92415-0061
Telephone: (909) 387-3700