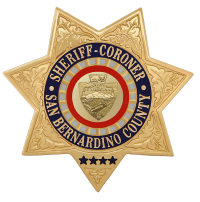 San Bernardino County Sheriff's Department
Press Release
DATE/TIME: February 23, 2018 / 10:21 p.m.
INCIDENT: Transportation of Controlled Substance for Sale, Possession of Controlled Substance for Sale, Evading a Peace Officer with Disregard for Safety, Felony No-Bail Warrant
LOCATION: 7th Street, Victorville
SUSPECT: Matthew Gallo, 31-year old Victorville resident
Summary
On February 22, 2018, Deputy F. Demara and Deputy A. Arreola, from the Victorville Police Department, observed the driver of a 2001 Nissan Altima fail to stop at the stop sign posted at Union Street and 7th Street. The deputies attempted a traffic stop, activating the siren and emergency lights on their marked patrol vehicle.
The driver of the Nissan, later identified as Matthew Gallo, failed to yield for the deputies, leading them on a pursuit covering over 11 miles. During the pursuit Gallo drove upon multiple surface streets before entering northbound Interstate 15, at Mojave Drive. Upon exiting the freeway, north of Victorville, he lost control of the vehicle, causing it to roll several times. Gallo exited the vehicle and fled on foot for a short distance before being detained by deputies.
A search of Gallo's vehicle resulted in the discovery of methamphetamine, scales, a glass pipe, and over $900.00 in cash. Gallo, who was also found to have an active, felony no-bail warrant, was arrested and booked at High Desert Detention Center. He is scheduled to appear in Victorville Superior Court on February 26, 2018.
Anyone with information about this investigation is asked to contact the Victorville Police Department at (760) 241-2911. Callers wishing to remain anonymous are urged to call the We-Tip Hotline at 1-800-78CRIME (27463) or you may leave information on the We-Tip website at www.wetip.com.
Refer: Mara Rodriguez, Media Relations Officer
Station: Victorville Police Department
Case #: 171802149
Phone No. (760) 241-2911
John McMahon, Sheriff-Coroner
San Bernardino County Sheriff-Coroner Department
Sheriff's Public Affairs Division
655 E. Third Street
San Bernardino, California 92415-0061
Telephone: (909) 387-3700