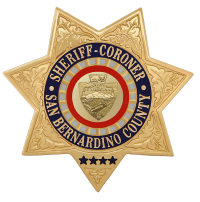 San Bernardino County Sheriff's Department
Press Release
DATE/TIME: January 18, 2018 / 1:56 a.m.
INCIDENT: Vandalism, Evading a Peace Officer with Disregard for Safety, Driving Under the Influence
LOCATION: 13100 block of Flint Lane
SUSPECT(S): Amber Rose Tyson, 22-year old Van Nuys resident
VICTIM(S): Confidential
Summary
On January 18, 2018, deputies from the Victorville Police Department responded to investigate suspicious circumstances in the 13100 block of Flint Lane. Multiple residents reported hearing a car horn sound several times and windows of their residences being broken. They then witnessed a female in a white BMW driving erratically through the neighborhood.
Deputies arriving at the scene saw the BMW leaving, at a high rate of speed. A traffic stop was initiated, with the deputy activating the red lights and siren on his marked patrol unit. However, the suspect failed to yield. The suspect, later identified as 22-year old Amber Rose Tyson, led deputies on a 40-mile pursuit. During the pursuit, Tyson failed to yield at several stop signs and red lights, while traveling at high rates of speed. She entered the southbound 15 freeway, driving erratically and reaching high rates of speed. A deputy was able to initiate a successful pursuit intervention technique (PIT) when Tyson was forced to slow her vehicle, due to semi-trucks traveling ahead of her. The pursuit came to an end south of the Foothill Boulevard off-ramp in Rancho Cucamonga. No injuries were sustained as a result of the incident.
Tyson was arrested and booked into the West Valley Detention Center on charges of vandalism, evading a Peace Officer, and driving under the influence of alcohol. She is scheduled to appear in Victorville Superior Court on January 22, 2018, and is being held in lieu of $105,000.00 bail.
Anyone with information about this investigation is asked to contact the Victorville Police Department at (760) 241-2911. Callers wishing to remain anonymous are urged to call the We-Tip Hotline at 1-800-78CRIME (27463), or you may leave information on the We-Tip website at www.wetip.com.
Refer: Mara Rodriguez, Media Relations Officer
Station: Victorville Police Department
Case #: 171800694
Phone No. (760) 241-2911
John McMahon, Sheriff-Coroner
San Bernardino County Sheriff-Coroner Department
Sheriff's Public Affairs Division
655 E. Third Street
San Bernardino, California 92415-0061
Telephone: (909) 387-3700