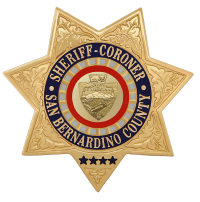 San Bernardino County Sheriff's Department
Press Release
DATE/TIME: April 6, 2018 / 4:25 AM
INCIDENT: PC 664 / 187 – Attempt Murder
PC 451 – Arson
LOCATION: 12800 Block California Street, City of Yucaipa
SUSPECT: Rick Berry, 52 Years old, resident of Yucaipa
Summary
On Friday, April 6, 2018 at 4:25 AM, Sheriff's dispatch received a 911 call from a resident in the 12800 block of California Street. The resident advised that her son, Rick Berry, was possibly suffering from mental health issues, was acting bizarrely and was armed with kitchen knives.
Deputies responded to the residence and found both Berry and his mother were inside. Berry armed himself with a makeshift spear consisting of a knife attached to the end of a broom handle. Deputies made contact with Berry and negotiated with him for over an hour in an attempt to get him into custody and provide him mental health support.
During the negotiation process, Berry lit a couch on fire. The fire spread quickly through the home and, fearing for the safety of Berry and his mother, deputies forced entry into the home. A less lethal beanbag shotgun was deployed and Berry was taken into custody with moderate injuries. The victim and her animals were safely removed from the home unharmed, just prior to the home becoming fully engulfed in flames. Fire personnel responded to the scene and were able to put the fire out.
Richard Berry was transported to Loma Linda University Medical Center for treatment of injuries sustained in the incident. The case will be referred to the District Attorney for consideration of criminal charges. At this time, no further information will be released as this is an active investigation.
Anyone with information about this crime is encouraged to call the Yucaipa Police/Sheriff's Station, Detective Division at 909-918-2305. Information can be provided anonymously by calling We-Tip at 800-78-CRIME (800-782-7463) or by visiting the We-Tip website at www.wetip.com.
Refer: Detective Jason Costa
Station: Yucaipa Station
Phone No: (909) 918-2305
Case #: 141801091
John McMahon, Sheriff-Coroner
San Bernardino County Sheriff-Coroner Department
Sheriff's Public Affairs Division
655 E. Third Street
San Bernardino, California 92415-0061
Telephone: (909) 387-3700