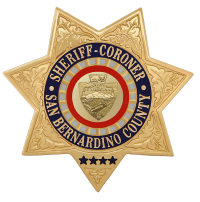 San Bernardino County Sheriff's Department
Press Release
DATE/TIME: April 26, 2018/ 1:53 pm
INCIDENT: PC 273A(a)- Child Endangerment, and PC 1203.2-Violation of probation
LOCATION: 34100 block of County Line Road., Yucaipa
SUSPECT: Jorge Barrera, 33-year-old resident of Yucaipa
Rosa Mendoza, 42-year-old resident of Yucaipa
VICTIM: 8-year-old female
14-year-old female
15-year-old female
Summary
On 4/26/18, Multiple Enforcement Team deputies and Station Probation Officer went to the location to follow up on information provided to them by San Bernardino County Welfare Fraud Investigators. Deputies spoke with Barrera and Mendoza. Barrera had an active no bail warrant from a Welfare Fraud Division's investigation. Deputies found that Mendoza was on probation. Three minor juveniles were living at the residence. The living conditions in the residence were found to be unsafe and unsanitary, the plumbing was also inoperable. There was insufficient food in the residence to sustain the children. Children and Family Services removed the children from the home.
Barrera was arrested and charged with PC 273A(a) and his active no bail warrants., he was booked into West Valley Detention Center. Mendoza was arrested for PC 273A(a) and PC 1203.2., she was booked into Central Detention Center.
The Multiple Enforcement Team / Problem Oriented Policing Detail is funded by and serves the City of Yucaipa. Among other duties, officers assigned to this detail seek wanted persons, work with parole and probation officers to ensure that people under their supervision remain in compliance with the law, and respond to concerns expressed by citizens regarding all types of criminal activity affecting their neighborhoods and communities.Citizens with information are encouraged to contact Deputies King and Coillot at (909) 918-2305.Citizens may also anonymously provide information to We Tip by calling 1-800-78 CRIME (1-800-782-7463) or by visiting WETIP.COM on the internet.
Refer:MET Deputies Chris Coillot/ David King
Station:Yucaipa Police & Sheriff's Station
Phone No.909-918-2305
Case No.DR # 141801292
John McMahon, Sheriff-Coroner
San Bernardino County Sheriff-Coroner Department
Sheriff's Public Affairs Division
655 E. Third Street
San Bernardino, California 92415-0061
Telephone: (909) 387-3700