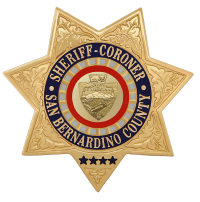 San Bernardino County Sheriff's Department
Press Release
DATE/TIME: April 6, 2018
INCIDENT: PC 487 – Grand Theft
LOCATION: 31500 Block of Avenue E; City of Yucaipa
SUSPECTS: ROE, Shelby Age: 26 Redlands, CA
GLEASON, Joshua Age: 23 Redlands, CA
GRUBER, Randy Age: 39 San Bernardino, CA
Summary
***** UPDATE *****
For the past 6 weeks, Yucaipa Detectives have been conducting an extensive investigation into this theft. Through investigative leads, and with the help of concerned citizens, detectives were able to identify some of the involved suspects.
The investigation revealed that Randy Gruber owned a raised white Chevy truck, which he had previously used in other patio furniture thefts in the City of Corona.
As part of CA Governor Brown's AB109 Early Release program, Gruber was on active Post Release Community Supervision out of Riverside County, and was currently absconding from his probation officer. Gruber had an active "No Bail" warrant for his arrest.
On March 19, 2018, San Bernardino Police located and arrested Gruber for his warrant. Gruber was transported back to Riverside County for his warrant. Yucaipa detectives responded to Riverside County jail and interviewed Gruber. Detectives conducted further investigation and identified Shelby Roe and Joshua Gleason as two of the suspects involved in the theft. Detectives obtained arrest warrants for both Gleason and Roe. Roe is currently on formal felony probation out of San Bernardino County.
On Wednesday, April 4, 2018, Yucaipa detectives located both Roe and Gleason in the City of San Bernardino. Both suspects were then booked into the county jail.
Gruber remains in-custody in Riverside County, where he is being held without bail.
Roe remains in-custody in San Bernardino County, where she is being held without bail.
Gleason remains in-custody in San Bernardino County, where he is being held in lieu of $100,000 bail.
On April 6, 2018, the case was presented to the San Bernardino County District Attorney's Office for review and all 3 suspects were charged with one felony count of PC 487 – Grand Theft.
****************************************************************************************************************
On February 20, 2018 at approximately 0336 hours, unknown suspects removed $5,500 worth of outdoor patio furniture from the victim's business located in the 31500 block of Avenue E. The suspects made a total of three trips to remove the items, using a newer model white Chevrolet Silverado, with a 35"-38" suspension lift.
Detectives have exhausted all leads, and have been unable to identify the suspects.
Detectives are releasing various clips of the surveillance video capturing the incident. Detectives are asking citizens to review the video.
Anyone with information about this crime is encouraged to call the Yucaipa Police/Sheriff's Station, Detective Division at 909-918-2305. Information can be provided anonymously by calling We-Tip at 800-78-CRIME (800-782-7463) or by visiting the We-Tip website at www.wetip.com.
Refer: Detective Donald Patton
Station: Yucaipa Station
Phone No: (909) 918-2305
Case #: 141800573
John McMahon, Sheriff-Coroner
San Bernardino County Sheriff-Coroner Department
Sheriff's Public Affairs Division
655 E. Third Street
San Bernardino, California 92415-0061
Telephone: (909) 387-3700