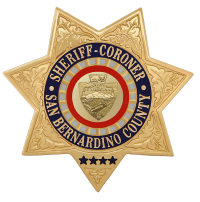 San Bernardino County Sheriff's Department
Press Release
DATE/TIME: April 18, 2018
INCIDENT: PC 288 (a) – Lewd Acts with a child under 14 years old
PC 288.5 (a) – Continuous Sexual Abuse of a Child
LOCATION: City of Yucaipa
SUSPECT: Sean Michael McMurray, age 42 a resident of Riverside
VICTIM: Male juvenile
Summary
In February of 2018, the victim reported that he was sexually abused by Sean McMurray. The victim reported that during a two-year period (2013 – 2015), McMurray sexually abused the victim on multiple occasions. Yucaipa Police Detectives immediately began investigating the sexual abuse allegations.
On April 18, 2018, Yucaipa Police Detectives contacted McMurray in the City of Moreno Valley. McMurray voluntarily came back to the Yucaipa Police Station for an interview. At the conclusion of the interview, McMurray was arrested for PC 288 (a) – Lewd Acts with a Child, and PC 288.5 (a) – Continuous Sexual Abuse of a Child. McMurray was booked into the West Valley Detention Center on the above charges, where he is being held in lieu of one million dollars bail.
At the time of this incident (2013 -2015), McMurray was employed as a teacher with Banning Unified School District. Currently, McMurray is employed as the Principal of the March Mountain High School in the Moreno Valley Unified School District. The victim was not a student of McMurray's and did not attend any of the schools he has worked at.
Detectives believe there may be additional victims and are releasing McMurray's booking photo. Anyone with information regarding this investigation or have information of additional persons who have been victimized by McMurray, are asked to call the Yucaipa Police Detectives Division (909) 918-2305. Anyone who would like to remain anonymous is urged to call the We-Tip Hotline at 1-800-78-CRIME (27463), or you may leave information on the We-Tip website at www.wetip.com.
Photo available: https://local.nixle.com/alert/6521568/
Refer: Detective Mike Madril
Station: Yucaipa Police Department
Phone No: (909) 918-2305
Case No: 141800427
John McMahon, Sheriff-Coroner
San Bernardino County Sheriff-Coroner Department
Sheriff's Public Affairs Division
655 E. Third Street
San Bernardino, California 92415-0061
Telephone: (909) 387-3700