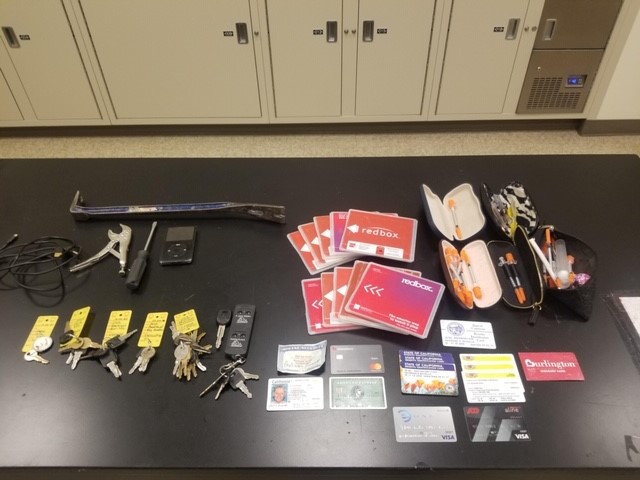 DATE/TIME: October 27, 2019 / 9:42 am
INCIDENT: Possession of Stolen Property
LOCATION: Hampton / Yucaipa Blvd., Yucaipa
SUSPECT(S): Victor Murray, 36 YOA, Transient
Jeremy Howard, 41 YOA, Transient
Melody Boyer, 28 YOA, Transient
VICTIM(S): Multiple victims in Redlands and possible other communities
SUMMARY: On October 27, 2019, an alert resident called 911 to report suspicious activity at the Baker's restaurant. The reporting party saw a male in possession of numerous electronic devices, some of which he was throwing in the trash. The reporting party suspected the items were stolen and kept a watch of the subject as he walked around the area and alerted deputies to his whereabouts.
Deputies located and contacted the suspicious person, then linked him to two other parties who were standing in the nearby Park and Ride. The three – Murray, Howard, and Boyer – were found to be transient and living out of a car parked in the Park and Ride.
Murray was found to be on probation and Howard was found to have warrants for his arrest. During their investigation, deputies located suspected stolen property linked to numerous thefts in the Redlands area. Deputies also located drug paraphernalia and items indicative of identity theft.
Murray was charged with several theft charges and probation violation. He was booked and is being held without bail. Boyer was booked on charges of conspiracy and possessing drug parapheranalia. She is being held on $35,000 bail. Howard was booked on a narcotics warrant with bail set at $20,000. Additional charges will be considered at the conclusion of the investigation.
While deputies were able to identify several victims, they are still trying to find the owner to five sets of apparent RV keys, all on similar yellow keytags. They are shown in the attached photograph. If these are your keys, please contact Deputy Melissa Miller at the Yucaipa Police Department.
Refer: Deputy Melissa Miller
Station: Yucaipa Station
Phone No. (909) 918-2305
Case No. 141903368
JOHN McMAHON, Sheriff-Coroner
San Bernardino County Sheriff-Coroner Department