Special Programs
Veterans Assistance
The San Bernardino County Workforce Development Board is honored to welcome returning veterans and we wholeheartedly appreciate your commitment and service to our country.
If you are a veteran in need of job placement assistance, we can help. Visit any one of the three County of San Bernardino America's Job Centers of California and there we will help you build a career.
Our board administers federal funding for job training and placement within San Bernardino County. We work closely with the County's employers to identify the skills they seek in employees and we provide the funds for training to enter those jobs. At the end of training, we help place trainees into a job.
Again, on behalf of all of us, we thank you and are proud of your courage and commitment.

Veteran Testimonial
Peter Andersen, an active 69-year-old veteran with 20 years of experience as a retired probation officer, was determined to work and stay involved with the community. He needed additional help in researching today's job market and was referred to the WDB for training and Veteran's Assistance. The WDB provided Peter with personalized case management and career advice. He received job referrals, one-on-one assistance with his resume, attended job search workshops, and was provided with help in obtaining the fingerprinted background check required for many of the positions for which he was applying.
Peter is now successfully employed full-time as a campus monitor at a high school in the Snowline School District. He is especially thankful to the WDB for assistance with computer skills training and for a referral to the Veteran's Networking Club. Peter said the WDB helped him "…find a realistic career goal that suited my age and physical ability. I am so appreciative of the service I received. I am now able to support my household."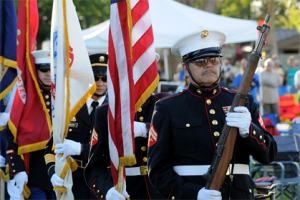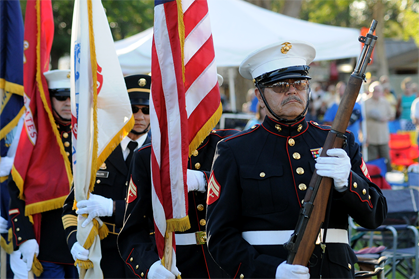 COVID-19 Resources
In response to the COVID-19 pandemic, the San Bernardino County Workforce Development Board (WDB) is instituting proactive measures to protect the health and safety of its employees, job seekers, and the businesses it serves.
This resource guide provides links to critical resources and services available to businesses and individuals impacted by the COVID-19 pandemic. The WDB is working closely with our business and economic development partners to gauge specific needs within our county, and will update this information as it becomes available.
Tax Assistance
The Employment Development Department (EDD) is providing payroll assistance for employers who are experiencing hardship because of COVID-19. With this, employers may request a 60 day extension to file their payroll reports and taxes. For more information call EDD at 1-888-745-3886 (toll-free).
Employee Retention: The Federal bill includes $50 billion for tax credits for firms that retain workers on their payroll and cover 50 percent of worker's pay. Firms will also be able to defer payment of Social Security payroll taxes, which are 6.2 percent of the first $137,700 in wages for each of their employees.
Tax Assistance: If you are experiencing a hardship as a result of COVID-19, you may request up to a 60-day extension of time from the EDD to file your state payroll reports and/or deposit state payroll taxes without penalty or interest. For questions, call the EDD Taxpayer Assistance Center at 1-888-745-3886. More information on Tax Assistance is available here.
Employee Protection
The Occupational Safety and Health Administration (OSHA) has also provided information regarding the health and safety of all workers during this pandemic.
Workplace Health and Safety – For information on protecting workers from COVID-19, refer to the Cal/OSHA Guidance on Coronavirus. Visit the Centers for Disease Control and Prevention website for help with planning and responding to COVID-19.
California Department of Industrial Relations – has published a Cal/OSHA guide on requirements to protect workers from COVID-19.
OnwardCa.org – Platform connecting COVID-19 displaced workers with over 70,000 job opportunities in critical industries.
Labor Market Information for Employers – The EDD Labor Market Information Division collects, analyzes, and produces labor market data of interest to employers and the business community. You will find links to wage statistics, benefits information, and data for your business plans, local labor market profiles, and more.
Labor and Workforce Development Agency – Provides resources for employers and workers including workers' compensation and paid sick leave.
Reduced Work Hours – If you are experiencing a slowdown in your businesses or services as a result of the coronavirus impact on the economy, you can apply for the UI Work Sharing Program. This program allows employers to seek an alternative to layoffs – retaining their trained employees by reducing their hours and wages that can be partially offset with UI benefits.
Visit Work Sharing Program to learn more about its benefits.
California WARN – Governor Newsom issued Executive Order N-31-20 (PDF), which temporarily suspends the 60-day notice requirement in the California WARN Act for those employers that give written notice to employees and satisfy other conditions. The suspension was intended to permit employers to act quickly to mitigate or prevent the spread of coronavirus. For more information, visit the COVID-19: WARN FAQs.
Potential Closure or Layoffs – If you are planning a closure or major layoffs as a result of the coronavirus, you can get help through the Rapid Response program. For more information, refer to the Rapid Response Services for Businesses Fact Sheet (DE 87144RRB) (PDF) or contact your local America's Job Center of CaliforniaSM.
State of California COVID-19 Medical Supply Contributions
The State of California is asking businesses and individuals who have resources available- to contribute, either for donation or purchase, to support California's response to COVID-19.
For more information visit https://contributions.covid19.ca.gov/.
Small Business Administration (SBA) Offering Low-Interest Federal Disaster Loans
The Small Business Administration (SBA) is offering low-interest federal disaster loans for working capital to California small businesses suffering substantial economic injury as a result of the Coronavirus (COVID-19). SBA acted under its own authority, as provided by the Coronavirus Preparedness and Response Supplemental Appropriations Act, on March 13, 2020.
Applicants may apply online, receive additional disaster assistance information and download applications at https://disasterloan.sba.gov/ela.
Applicants may also call SBA's Customer Service Center at (800) 659-2955 or email disastercustomerservice@sba.govfor more information on SBA disaster assistance.
Individuals who are deaf or hard of hearing may call (800) 877-8339.
Completed applications should be mailed to U.S. Small Business Administration, Processing and Disbursement Center, 14925 Kingsport Road, Fort Worth, TX 76155.
Executive Order Further Enhancing State and Local Government's Ability to Respond to COVID-19 Pandemic
The Governor's order:
Waives the one-week waiting period for people who are unemployed and/or disabled as a result of COVID-19. Learn more on this here.
Delays the deadline for state tax filing by 60 days for individuals and businesses unable to file on time based on compliance with public health requirements related to COVID-19 filings;
The full executive order can be found here.
Other Services Available
Free Human Resources Hotline:
Call for free consultation: 1 (877) 282-3762.
Business: The San Bernardino County Workforce Development Board's Business Services team is available to assist your company.
If you are experiencing or considering downsizing, our Rapid Response program can provide an on-site assessment of your employment needs, while also providing and training and coordination of state and economic assistance.
Through our Layoff Aversion program, we can help you develop strategies to operate more efficiently while improving productivity and reducing costs.
To learn more about WDB's Business Services team, click here.
Job Seekers: WDB operates three America's Job Centers of California – all of which are providing support by phone during the crisis. Services include help in finding a job, skills assessment, identifying career paths, updating resumes, preparing for job interviews and finding training programs.
East Valley AJCC: (909) 382-0440
West Valley AJCC: (909) 941-6500
High Desert AJCC: (760) 552-6550
Job seekers also can email: info@wdd.sbcounty.gov
Frequently Asked Questions
Coronavirus 2019 (COVID-19) FAQs – Provides general guidance as to what programs are available and what situations may be applicable to your circumstances. We encourage you to apply for the program you believe best fits your needs and the EDD will determine your eligibility for benefits.
Coronavirus 2019 (COVID-19) – The EDD provides a variety of support services to people affected by COVID-19 in California. For faster and more convenient access to those services, online options.
Prison to Employment (P2E)
The P2E Initiative integrates workforce and re- entry services to connect justice involved individuals who are on active parole/probation and persons formerly incarcerated to high demand employment in the labor market. If you are an Individual seeking transitional employment or services that lead to fulltime employment at livable wages, please contact your nearest AJCC or service provider (provided in the brochures below) for more details.
Transitional Employment
• Immediate Subsidized Employment (100%)
Direct Job Placement
• Direct Unsubsidized Employment
Vocational Training
• Construction, Logistics, & Manufacturing
On-the-Job Training
• Up to 50% Salary Reimbursement
Career Services
• Resume Development
• Interviewing Skills
• Job Coaching
• Workshops
Support Services
• Transportation Assistance
• Work Clothes
• Tattoo Removal
* This is a Title-1 financially assisted program, is an equal opportunity
employer/program. Auxiliary aids and services are available upon request
to individuals with disabilities, California Relay Service 711.
San Bernardino County Transitional Assistance Department CSEP and CYEP Programs
The San Bernardino County Workforce Development Department (WDD) has collaborated with the Transitional Assistance Department (TAD) to find employment for the participants of the California Work Opportunity and Responsibility to Kids (CalWORKs) Welfare-to-Work (WTW). As a result of this collaboration, the following two programs are offered:
California Work Opportunity and Responsibility to Kids (CalWORKs) Employment Program (CSEP). CSEP is California's job readiness and work-experience training program for participants above the age of twenty-five, in the CalWORKs program.
And,
California Work Opportunity and Responsibility to Kids (CalWORKs) Youth Employment Program (CYEP). CYEP is California's job readiness and work-experience training program for participants, ages 16 through 24, in the CalWORKs program.
The objective of both CSEP and CYEP is to offer customers the opportunity to:
Gain employment experience,
Improve work skills,
Maintain current work history, and
Develop self-sufficiency and contribute to the economic stability of San Bernardino County
If you have additional questions, please contact Jose Ledezma – Jose.Ledezma@hss.sbcounty.gov.
Harvard Skillbase
The link below provides free training in several areas including information technology (IT), job search and tools for English Language Learners. We are proud to partner with Harvard University to bring these resources to San Bernardino County!
The Uniquely Abled Computer Numerical Control (CNC) machinist training program is designed for individuals with autism. The program is a partnership with San Bernardino Valley College, Goodwill of Southern California, Department of Rehabilitation and the San Bernardino County Workforce Development Board. A CNC machinist operates equipment that produce parts and tools made from plastic, metal, and other materials. There is a shortage of qualified CNC machinists in the manufacturing sector, and when students complete the Uniquely Abled Academy, they can get matched with jobs paying anywhere from $33,000 to $54,000 annually. This August, Valley College will launch a pilot program providing Computer Numerical Control (CNC) machinist training to individuals with autism. This first cohort of eight students will receive on-campus instruction and hands-on work experience using SBVC's state-of-the-art machinist technology, with San Bernardino County Workforce Development Board later providing job placement. Click the link to learn more about the program or to sign up.
https://www.valleycollege.edu/academic-career-programs/specialized-programs/cte-transitions/job-developer-project/machinist.php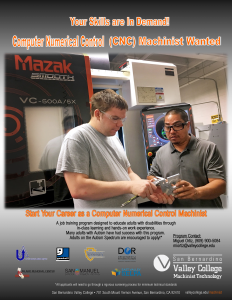 CE-Oh! is an ONLINE, 10-week Business & Entrepreneurship training program that will help you:
• Build your overall business and financial skills and knowledge.
• Monetize your passion and provide you with tools needed to start your own business OR find a new job.
• Earn industry-recognized certifications
• Gain foundational business, financial, and technology literacies that are transferable to nearly every profession.
Public Consulting Group (PCG) is currently taking applications for the next round of CE-Oh! Entrepreneurship Training Course. This virtual training program is being underwritten by Clark University's TechQuest Apprenticeship Program. It is available at NO COST to participants who are eligible.
CE-Oh! ELIGIBILTY REQUIREMENTS
To qualify for this opportunity, participants must be:​
17 years of age or older, and not enrolled in secondary school (high school), and​
A U.S. citizen or authorized to work in the U.S., and​
Unemployed, or​
Underemployed, or​
Employed individuals who are lower skilled and are without the necessary skills and competencies to be employed in middle and high skilled occupations.
Registration information is available on our webpage: CE-Oh! | VERA – TQA (tqaclark.com)