GenerationGo!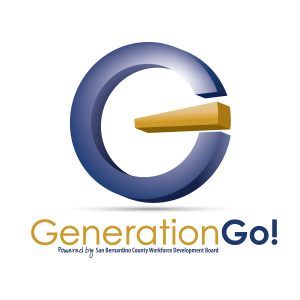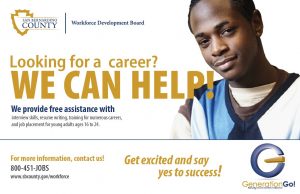 WIOA (Workforce Innovation and Opportunity Act) Youth Programs and Services
Eligible youth, ages 16 to 24, can access a variety of career and educational services through WIOA funded programs. These services are designed to help enhance job skills, develop leadership qualities, explore career options, participate in adult and peer mentoring opportunities, and take advantage of work experiences.
Youth program providers, as listed below, meet specific criteria and requirements in order to receive allocated funds for these youth services. Direction and oversight for the funding allocations is provided by the San Bernardino County Workforce Development Board.
Youth Providers
To find out about eligibility criteria or WIOA program openings contact a San Bernardino County WIOA Youth Provider near you.
*Program openings are dependent upon individual provider capacity
Program Information
The youth program prepares youth for post-secondary educational opportunities or employment. The WIOA Program links academic and occupational learning. The WIOA program includes the following:
Tutoring
Study Skills Training
Adult Education Diploma, High School Diploma, and GED Attainment
Paid and Unpaid Work Experience (Job Shadowing and Internships)
Occupational Skills Training
Leadership Development
Guidance and Counseling Services
Pre-vocational Skills Training
Linkages to ROP, Workability, CALWORKS and local community college training
Program Information
Building A Generation promotes nurturing environments for kids and their families to end child abuse and to foster positive relationships enabling them to become healthy and self-sufficient families.
We serve children who are negatively impacted by trauma, exposed to substance abuse, domestic violence, and child abuse. We address the well-being of the "whole child" by providing academic assistance, parent education, and mental health support for them and their families to thrive.
Program Information
The California Association of Health & Education Linked Professions (CAHELP), a Joint Powers Authority (JPA), is a public education consortium of school districts and charter schools. Our mission is "The Relentless Pursuit of Whatever Works in the Life of a Child," and we achieve this mission through the programs and services we provide to educators, children, students, families, and communities. The CAHELP consists of the Desert/Mountain SELPA, Desert/Mountain Children's Center, and the Desert/Mountain Charter SELPA.
Program Information
The Career Institute is a career, education, and life-planning organization. Our mission is to train students of all ages as they chart a course for their lives or refocus career direction. Students train and certify in an industry specific field, obtain employment, map out a plan for advancement in their education and develop leadership qualities that will lead them to a bright future. Much of our work is done with 18-24 year olds through the Federally Funded Workforce Innovation and Opportunity Act (WIOA). We also work with the County Temporary Assistance for Needy Families (TANF) for all ages with specific training and a work experience only program. The main office is in Rancho Cucamonga with branch offices in Big Bear, Lake Arrowhead, Apple Valley and Barstow.
Program Information
The GenerationGo! program prepares youth for post-secondary educational opportunities or employment. The program links academic and occupational learning. The GenerationGo! Program includes the following:
Assistance in completing High School Diploma or GED
Tutoring
Assistance with entry to post-secondary education
Guidance and Counseling Services
Paid work experience
On the job work experience
Ongoing personalized mentoring and guidance with a case manager
Leadership and career development
Life skills training
Program Information
Colton-Redlands-Yucaipa Regional Occupational Program (CRY-ROP) accelerates the skill development and education of high school students and adults in the region to prepare them to be career ready, technically skilled and academically prepared. Our broad range of occupational and educational programs, coupled with employment services offer our students customized options whether pursuing a job or additional education.
CRY-ROP works in collaboration with K12 school districts, adult education, community colleges, and workforce development. This collective approach ensures coordinated integration of academic and career preparation competencies connected to sequences, paths and postsecondary options leading to viable jobs. Secondary students can explore career options and apply academic skills to practical problems, enabling them to prepare for workplace or postsecondary training transition. Adults seeking skill upgrade, entering the workforce, or changing careers also benefit from CRY-ROP programs. Career guidance and special services for individuals with disabilities are support structures offered to ensure program success.
Program Information
El Proyecto del Barrio, Inc. was founded in 1971 to provide health and human services to communities with underserved populations. The Youth Source Centers program provides a comprehensive array of workforce and education services for youth ages 16-24, residents in San Bernardino County and La County primary targeting out-of-school, out-of-job, and drop-out youth. Our mission is to provide services to young people who have challenges to get employment or education with a chosen career path to obtain the necessary skills and education with a demand industry sector.
First Institute Training & Management, Inc. (FITM)
www.fitmnow.com/ – 909.829.1643
14755 Foothill Blvd, Suite G
Fontana, CA 92335
56020 Santa Fe Trail, Suites P&Q
Yucca Valley, CA 92284
121 F Street, Suite #2
Needles, CA 92363
Contact Person:
Ariel Nievas
anievas@firstinstitute.com
Program Information
First Institute Training & Management, Inc. (FITM) equips young adults, ages 16-24, with the skills and confidence they need to get a job and/or pursue a career through post secondary education. FITM is approved to operate and offer post-secondary educational programs by the California Bureau for Private Post-secondary Education (BPPE). FITM offers a Career Pathways Program in healthcare, manufacturing, and business. The goal of our program is permanent employment in a career track job with advancement opportunities. In addition, you will receive access and support in all of the fourteen (14) elements described under the Workforce Innovation and Opportunity Act (WIOA). Please contact us today so that together we may continue creating stronger communities across San Bernardino County, one job at a time.
Program Information
Goodwill provides youth services in Victorville, our programs help guide youth on their way to becoming self-sufficient and productive community members by helping them earn a high school diploma or equivalent, transitioning them into higher education and placing them in employment. Our programs include work readiness training, on-the-job work experience, case/participant management, individual service strategy development, vocational training, mentoring, and leadership development. All of our services are provided to our youth at no cost to serve the community and to Transform Lives Through the Power of Work.
Program Information
The purpose of the Hesperia Unified School District WIOA program is to create a broad range of career and educational choices for it participants. Our goal is to give out of school youth a positive career pathway so they can become contributing and productive residents of San Bernardino County. The Hesperia Unified School District WIOA program has, and will continue to be, an agency which provides school-to-work connections for 16-24 year olds.
Program Information
Pathways Management Group operates a national network of non-profit public schools and learning programs that partner with state and local school districts to serve our communities and support at-risk and underserved youth. PMG schools utilize a blended learning model that connects students to a wide variety of instructional modalities, helping every student find success in junior high, high school and beyond.
Program Information
The Youth Action Project aims to empower youth and young adults in the development of the skills and habits needed to experience economic and social success.
Our vision is that of a comprehensive youth development system where ALL Youth Graduate high school, transition to higher education and enter meaningful and gainful employment or entrepreneurial ventures by age 25.
YAP has realized three elements of our visions thus far:
Young Leaders Incorporated (YLINC) is guided by a philosophy centered on "nothing about me without me" and is designed to ensure youth have an opportunity to sit at the decision-making table. Through YLINC, YAP's aim is to increase student competency around leadership, youth voice and their ability to effectively engage their respective communities.
Young Scholars utilizes the positive peer influence of local college students as Academic Coaches to provide afterschool tutoring, life skills, college and career awareness for high school students. Through Young Scholars, YAP's aim is to increase student competency in core academic content and 21st Century Themes.
Young Workers aims to increase the awareness of demand occupations and ensure that high school students have a career pathway plan that is based on their interest and talents. Students are also provided with practical ways to explore careers and entrepreneurial opportunities. Young Workers provides young adults with up to 900 hours of paid work experience with a goal to bridge skills gaps and solve classic soft skills deficiencies among young workers.