Community Service & Reentry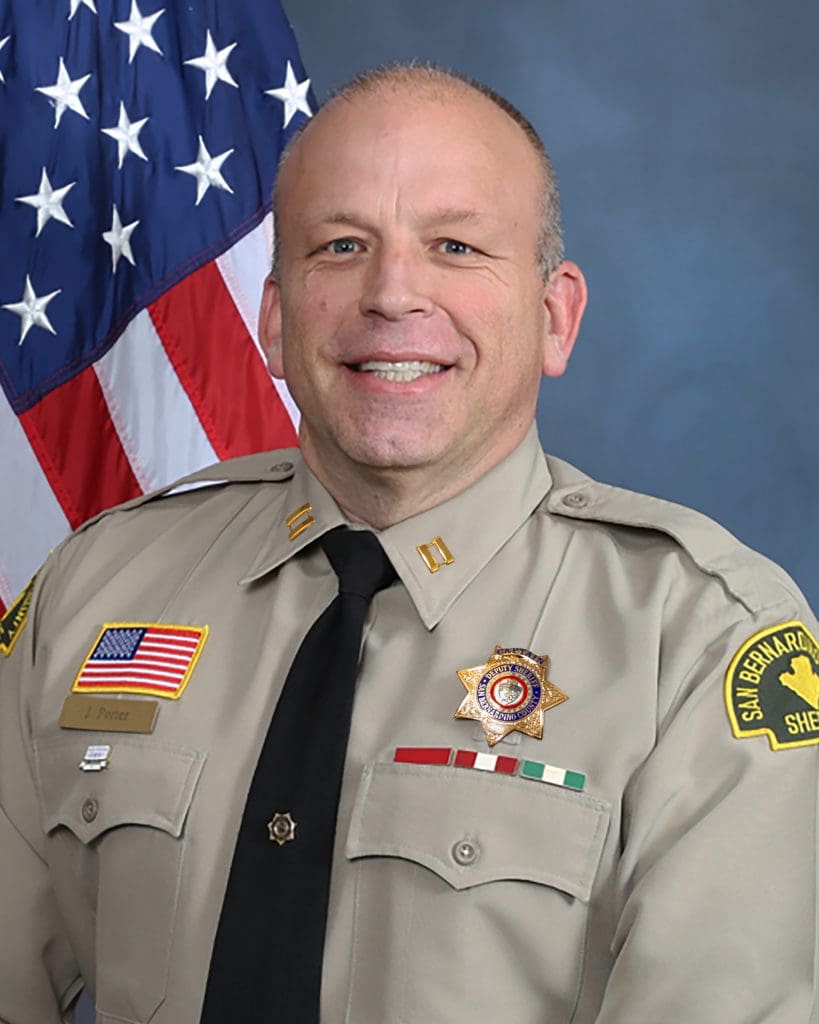 James Porter, Captain
Phone:
(909) 473-2602
Address:
18000 Institution Road
P.O. Box 9490
Devore, CA 92407
Divisions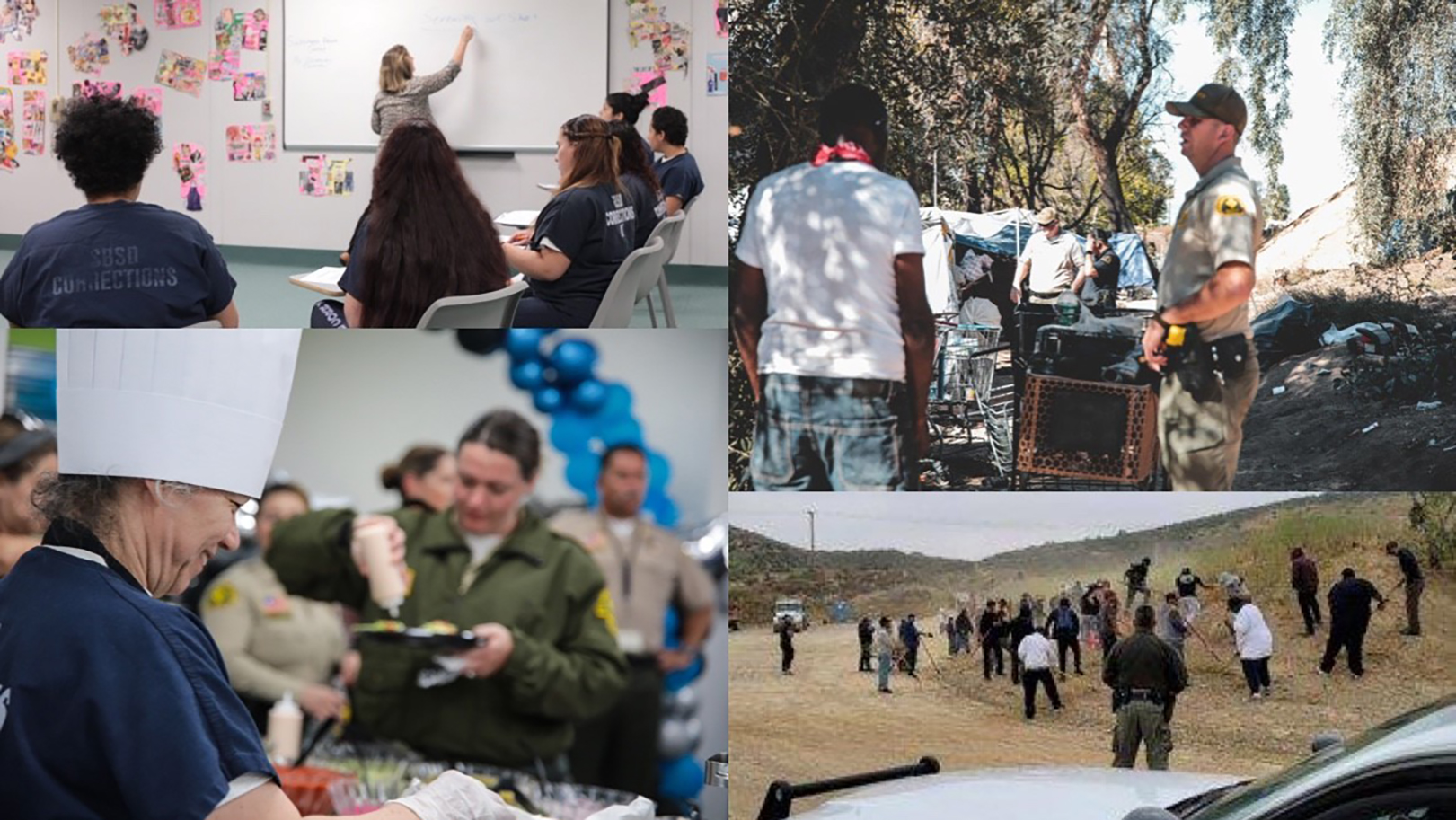 The Community Service & Reentry Division (CSRD) provides rehabilitation, education, support, and advocacy services for the County's vulnerable and hard to serve populations. These include the incarcerated population, those reentering our communities from the county correctional system and those experiencing homelessness and untreated/undertreated mental illness.
Officially launched in 2021, CSRD merged many already existing service-oriented operations within the Sheriff's Department under a unified command. Small units, including the Department's various field-based outreach and support teams, were brought together with custody-based rehabilitation and reentry programs, alternative to custody programs and other existing supportive service operations. The division's deputies, social workers, counselors, educators, and advocates work as a team to successfully connect people with the resources needed to help them work through their substance use disorders, unresolved trauma, adverse childhood experiences and the many other challenges they may face.
CSRD maintains collaborative partnerships with many government and community-based organizations who provide services aligned with the CSRD mission. County agencies, including the Department of Behavioral Health, the Department of Public Health, and the Probation Department work with CSRD staff in the field and within the correctional environment providing diverse services from mental health treatment to housing placement to reentry services. Five Keys Charter Schools partners with CSRD to provide high school diploma programs to the justice involved population. The County Superintendent of Schools provides literacy services to children of incarcerated parents and vocational training in several of the county's detention centers. The FAITHS Throughcare Program provides psychotherapeutic services to the incarcerated and post-release populations.
Many lower risk offenders are sentenced by the courts to community-based custody and work release programs. CSRD oversees and manages both work release and community-based custody ankle monitor programs. Each year, CSRD books several thousand people into these programs at the direction of the courts. Rather than serving time in jail as a result of their conviction, program participants instead provide community service at work sites all across the county completing tasks such as weed abatement, graffiti clean-up and trash removal from public areas or serve their sentences in the community with GPS monitoring. HOPE, InnROADS and START work with those experiencing homelessness and mental health challenges.
CSRDs main office is located on the campus of the Glen Helen Rehabilitation Center, though CSRD staff can be found working in all four of the county's Type II jails and throughout the communities we all live and work in.
The Inmate Services Unit (ISU) offers robust programming options for the incarcerated population as they prepare to renter society. Comprised of deputies and professional support staff, social workers, alcohol and drug counselors, chaplains and instructors, the ISU team aims to meet the often challenging needs that come with incarceration. Individuals in-custody can enroll in classes to assist in cognitive change such as substance abuse, living skills or the FAITHS Throughcare Program. They can take advantage of earning vocational training certifications in fields such as bakery training, culinary arts, janitorial services, Microsoft computer skills and more. They can also seek to meet their spiritual needs through the unit's full time or volunteer chaplains and faith based service providers.
Email: inmateservices@sbcsd.org
Inmate Services Website: (sbcsdinmateservices.org)
CSRD runs the work release and electronic confinement programs, both of which were authorized by the County Board of Supervisors. These programs allow the courts to sentence lower risk offenders to alternatives to jail time, saving millions of dollars of incarceration costs each year. Program participants can complete their sentences through volunteer work at one of several dozen work crew sites around the county or serve their sentence in community-based custody while monitored by a GPS device. Incarcerated persons may also qualify for release from custody onto a GPS monitored program based on their completion of in-custody psychotherapeutic courses administered by CSRD staff.
Work Release / Electronic Confinement Unit Officer: (909) 473-2580
Hours: Seven Days a Week, 0730 – 1630. Closed on holidays.
The Homeless Outreach and Proactive Enforcement (H.O.P.E.) Team is a proactive approach intended to reduce workloads associated with working with those experiencing homelessness. A community policing philosophy is used to link the homeless population with resources and service providers throughout the county. The vision of H.O.P.E. is to increase the quality of life for all citizens of San Bernardino County by assisting those experiencing homelessness into housing and subsequently saving taxpayer costs and resources.
H.0.P.E. Team Office: (909) 387-0623
H.O.P.E. Team Webpage
InnROADS (Innovative Remote Onsite Assistance Delivery) is a collaborative field-based team which includes Department of Behavioral Health, Department of Public Health, Department of Aging and Adult Services, and the Sheriff's Department. InnROADS is comprised of 4 regional teams, East Valley, West Valley, High Desert, and Morongo Basin. InnROADS works with community resources and other county agencies to provide services and support to individuals living in rural and isolated areas and who are experiencing homelessness.
InnROADs Office: (909) 421-9328
The Sheriff's Transitional Assistance Reentry Team (START) works with the incarcerated population who are homeless, suffer from substance abuse or mental illness or otherwise need assistance upon release from custody. START includes deputy sheriffs, probation officers, a part time social worker and support staff. With the ultimate goal of reducing recidivism, START aims to connect justice involved persons to housing, recovery services and other community resources.
Incarcerated persons can request START services through facility kiosks.
START Office: (909) 463-5385
Email: START@SBCSD.org
The Crisis Intervention Team (CIT) is a partnership between the Sheriff's Department and the Department of Behavioral Health. CIT provides behavioral health education and training for first responders and community partners on how to appropriately respond to individuals experiencing a behavioral health crisis and provides communication and de-escalation skills, community resources and referrals. As of 2022, the CIT program has trained over 2000 deputy sheriffs on these skills.
CIT Office: (909) 386-8258
CIT Email: DBH-CITRAIN@dbh.sbcounty.gov
The Family Attachment Interventions Through Healing Solutions (FAITHS) Throughcare Program is a partnership between California State University San Bernardino and the San Bernardino County Sheriff's Department. FAITHS offers comprehensive assistance to all justice-involved participants, their families, and the whole of San Bernardino County utilizing an augmented "throughcare" model of rehabilitation aiming to save taxpayer dollars through reducing correctional costs. By addressing the needs of the offender rather than just addressing the individual offense, the mission is to reduce recidivism, break intergenerational cycles of trauma, create safer communities, and provide hope to families yet to be. In addition to offering services to a diverse range of individuals and families, FAITHS and its partners will focus on finding solutions to assist the justice-involved veteran population, the struggles perpetuating homelessness, and racial inequity as a health crisis in San Bernardino County.
Email: faiths@groups.csusb.edu
FAITHS Portal (sbcsdinmateservices.org/faiths)
CSRD has a large volunteer unit made up of approximately 165 volunteers who provide religious, substance abuse, reentry, and other supportive programming throughout the county jail system. Religious services are offered by ministries of various faiths from across our communities. 12-Step volunteers from local chapters provide alcohol and drug rehabilitation and support meetings to those seeking to overcome addiction. A diverse group of non-profit and community-based organizations provide additional volunteer services ranging from job placement to vital document services to health care services.
For information on applying to be volunteer, please reach out to CSRD staff at (909) 473-2602
The Community Outreach and Support Team (COAST) was created to improve interactions during calls dealing with mental health crisis. Once on scene, COAST members are trained to provide specialized attention, often avoiding the need for additional resources or hospitalization.
In September 2022, the idea of a multi-disciplinary team to respond to San Bernardino County's growing number of mental health crisis calls was proposed and accepted by the county. Sheriff Dicus leveraged relationships with the San Bernardino County Fire District and the Department of Behavioral Health to create a team comprised of a deputy sheriff, a social worker, and a Paramedic / Firefighter with a support canine. COAST serves the communities of Highland, Muscoy, and Mentone. This innovative new team aligns perfectly with the Sheriff's commitment to explore new solutions to existing challenges.
COAST Office: (909) 473-2602
Email: COAST@sbcsd.org