Apple Valley Patrol Station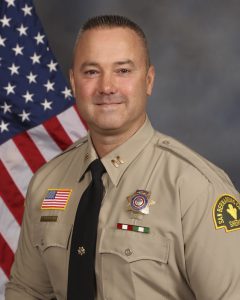 Jason Cunningham, Captain
Address
14931 Dale Evans Parkway
Apple Valley, California  92307
Phone:
(760) 240-7400
Office Hours:
8:00 a.m.-5:00 p.m.

The Town of Apple Valley incorporated on November 14, 1988. Since its incorporation, the town has continuously contracted with the Sheriff's Department for law enforcement services. The Sheriff's Station consists of 51 officers and 13 general employees.
In keeping with the station's community policing philosophy, the Apple Valley patrol shifts implement problem oriented policing to focus on crime trends. The station also partners with Apple Valley Code Enforcement and San Bernardino County Probation to address issues ranging from quality of life to violent crime in an effort to reduce crime and create an aesthetically pleasing community.
Apple Valley annually holds community celebrations, which include Jazz Night, Street Fairs, Concerts in the Park & Concerts in the Courtyard, the Fourth of July Freedom Festival, Apple Valley Round-up Days, and the Town Anniversary celebration.
The Apple Valley station is very proud of its Police Activities League program (PAL). The Apple Valley PAL is a collaborative community effort through a partnering with other agencies to include the Apple Valley Fire Protection District, Apple Valley Unified School District, Community and business Organizations, Town of Apple Valley Park and Recreation, and the Community Youth Athletic Program to improve the lives of the children in Apple Valley. AVPAL is a non-profit organization designed to provide after school mentoring programs, athletics, and life skills to the children of our community. AV PAL boasts a boxing gym, a PAL youth center at James Woody Park, and twice each year since 2007, a S.H.O.C.K. program for at risk youths. The S.H.O.C.K. program is a ten-week juvenile intervention program for youth between the ages of twelve and seventeen. S.H.O.C.K. was designed to combat the negative influences facing today's youth in society. This program is for Apple Valley residents or students of the Apple Valley School District only. For more information on the S.H.O.C.K. program or to sign-up, contact the Apple Valley Police Activities League at (760) 240-7400 at extension 7416 / 7440 or info@avpal.org
The citizens of Apple Valley continue to enjoy a quality level of service through their contract with the Sheriff's Department. The personnel assigned to the Apple Valley Station do their best to ensure the citizens of Apple Valley enjoy "A Better Way of Life".