Emergency Operations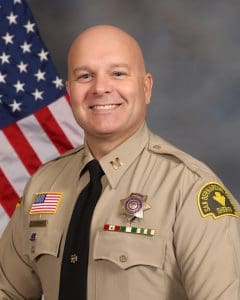 James Mahan, Captain
Address: 199 N. Hangar Way
San Bernardino, CA 92415
Phone:
909-252-4100
FAX 909-252-4109
Office Hours:
8:00 a.m.-5:00 p.m.
Follow Your Station
Programs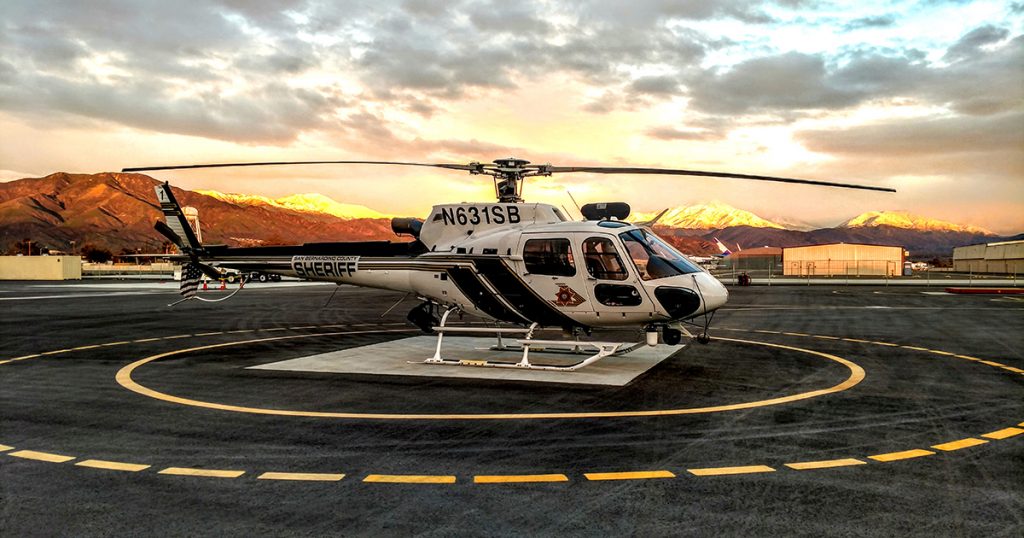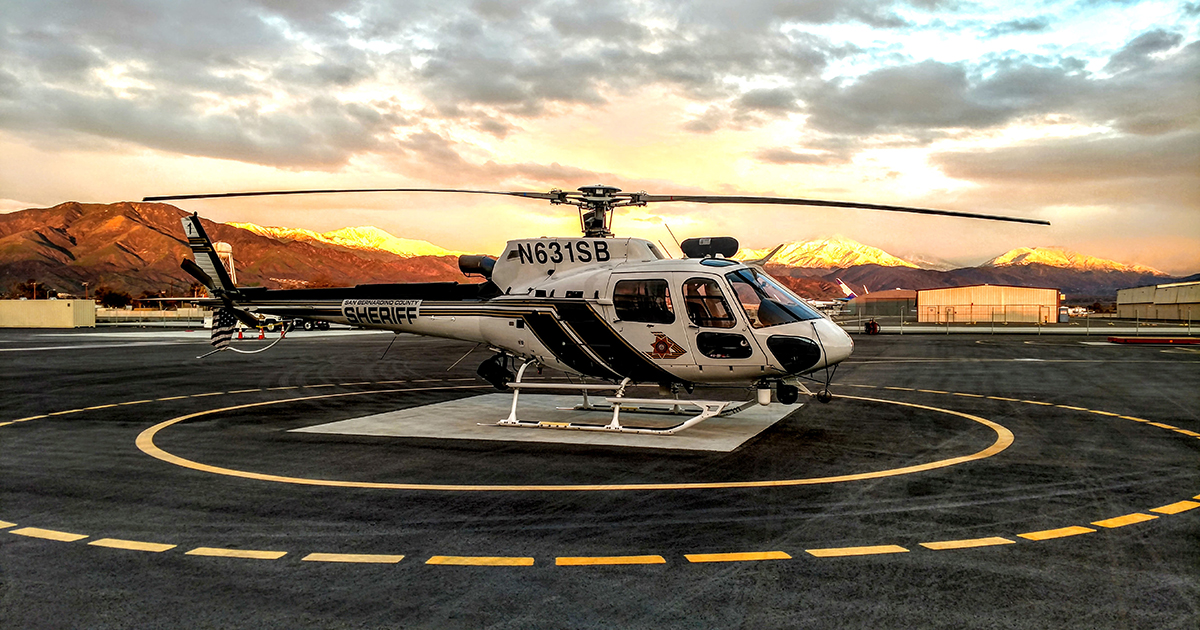 The San Bernardino County Sheriff's Department Emergency Operations Division provides operational, logistical and management support services to all public safety agencies throughout the County of San Bernardino, which is the largest geographical county in the United States. We also provide mutual aid assistance to neighboring counties via the California Office of Emergency Services.
The Emergency Operations Division has a total of 47 personnel and manages approximately 1,500 volunteers, including Sheriff's Reserves, Citizens on Patrol, Explorers, and other Volunteers throughout the county. The Emergency Operations Division is divided into two sections or units: Aviation and Volunteer Forces.
Building Statistics
Land: 8 Acre parcel
Hangar Size: 51,000 square feet
Office Size: 12,000 square feet
Aviation Unit History
The Sheriff's Aviation Unit was formed in 1972 by Terry Jagerson. The first two helicopters were turbo charged civil aviation Bell 47G helicopters obtained through federal grant funds. Over the years, more helicopters were added to the fleet to cover the vast size of the county. The helicopters were kept inside an aircraft hangar in Rialto, California until 2015 when the unit moved operations to the San Bernardino International Airport.
Mission
The San Bernardino County Sheriff's Aviation Unit is the lead aerial law enforcement agency for the county. Sheriff's Aviation provides general law enforcement support, narcotics surveillance, personnel/cargo transport, airborne photography, search and rescue operations, wild land fire suppression and emergency medical transport services. The San Bernardino County Sheriff's Aviation Unit has the following aircraft:
6 – Airbus H125 helicopters
1 – Eurocopter AS350 B3 helicopter
3 – Bell UH-1H medium helicopters
1 – Bell 212 medium helicopter
2 – Mahindra Air Van fixed wing airplane
1 – Renaissance Twin Commander fixed wing airplane
2 – Beechcraft King Air fixed wing airplanes
16 – Total Aircraft
All of our patrol helicopters are equipped with the latest aviation technology including high-definition Forward Looking Infrared (FLIR) systems, night vision, in-flight GPS mapping programs, night sun, external hoist systems and high-definition video downlink capability. The search and rescue helicopters are equipped with external hoists, emergency medical equipment and if needed, fire tanks/buckets.
Volunteer Forces Unit History
The Sheriff's Volunteer Forces Unit was formed in 1991. The primary purpose of the unit was to standardize all of the various volunteer units throughout the Sheriff's Department. Original members of the Volunteer Forces Unit started the Citizens of Patrol program and other innovative programs designed to help support the mission of the San Bernardino County Sheriff's Department.
Mission
Volunteer Forces provides search and rescue services, evacuation and disaster response/planning and operates the Department Operations Center during any emergency. We also manage and provide training to approximately 1,500 dedicated volunteers throughout the county. Our unit has a number of specialized vehicles including mobile command trailers, off-road vehicles and the CAL-EMA Mobile Interoperability Gateway Unit (MIGU), which provides redundant and survivable radio communications capabilities. Volunteer Forces is also responsible for the overall coordination of all Region VI mutual aid assistance and resources on behalf of the Sheriff/Coroner Shannon Dicus.
2021 Emergency Operation Division Statistics
Aviation Unit
Calls for Service (County Areas) – 1,794
Calls for Service (Contract Cities) – 2,883
Calls for Service (Police) – 2,392
Calls for Service (Other) – 207
Total Calls for Service – 7,579
Total Flight Time (Hours) – 3,213
Total Arrests – 829
Total Pursuits – 168
Helicopter S & R Calls – 150
Hoists – 61
Volunteer Forces Unit
Explorers – 138
Line Reserves – 54
Citizens on Patrol – 413
Search and Rescue – 326
Posse – 90
Support Units – 454
Total Number of Volunteers – 1,475
Total Search and Rescue Missions – 160
Total Hours Donated – 529,144
National Hourly Rate (if charged) – $26.34
Total Savings to the County – $13,937,634