Explorers
Address
199 N. Hangar Way
San Bernardino, California 92415
Phone:
(909) 252-4100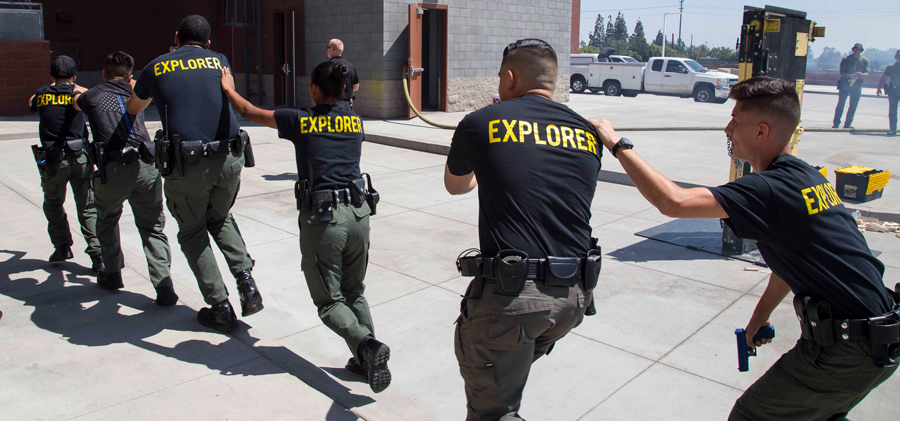 The primary mission of the Sheriff's Explorer Scout Program is to educate and mentor youth and provide in-depth firsthand experience in the field of law enforcement. The program is intended to interest youth in possible law enforcement careers and to build mutual understanding. Through involvement, this program will establish an awareness of the complexities of law enforcement services. This program is intended for the benefit of youth from age 14 through 20.
The explorer program shall serve as a potential recruitment tool for future men and women in law enforcement and as a community relations effort between the sheriff's department, the youth and the community as a whole. The program will be utilized as a service group within the community and, by its nature, will have potential use as supplemental manpower to the sheriff's department.
The program is designed to develop and uphold the basic objectives of the department in the areas of character building, leadership development, and appreciation for community services and good citizenship.
Membership in the Sheriff's Explorer Post is open to young men and women who meet the following requirements:
Age 14 through age 20
A legal resident of the U.S.
Have parental approval which includes signatures by the explorer and their parents or
guardians on a general liability release form (under 18)
Enrolled or graduated from High School
Be of good health
Be of good moral habits / character with no arrest or conviction record
Have a 2.0 grade point average ("C" Average) or better in school work
No pending misdemeanor or felony court cases
Monthly business meeting
Donate minimum of 8 hours per month
Successful completion of Explorer Academy within one year of appointment
Hold and maintain current CPR and First Aid Certification
Meet the Explorer Scout minimum in attendance and participation
Maintain a 2.0 grade point average ("C" Average) or better in school work
Traffic control
Aviation related duties
Clerical work
ATV schooling
Crowd control