Gangs/Narcotics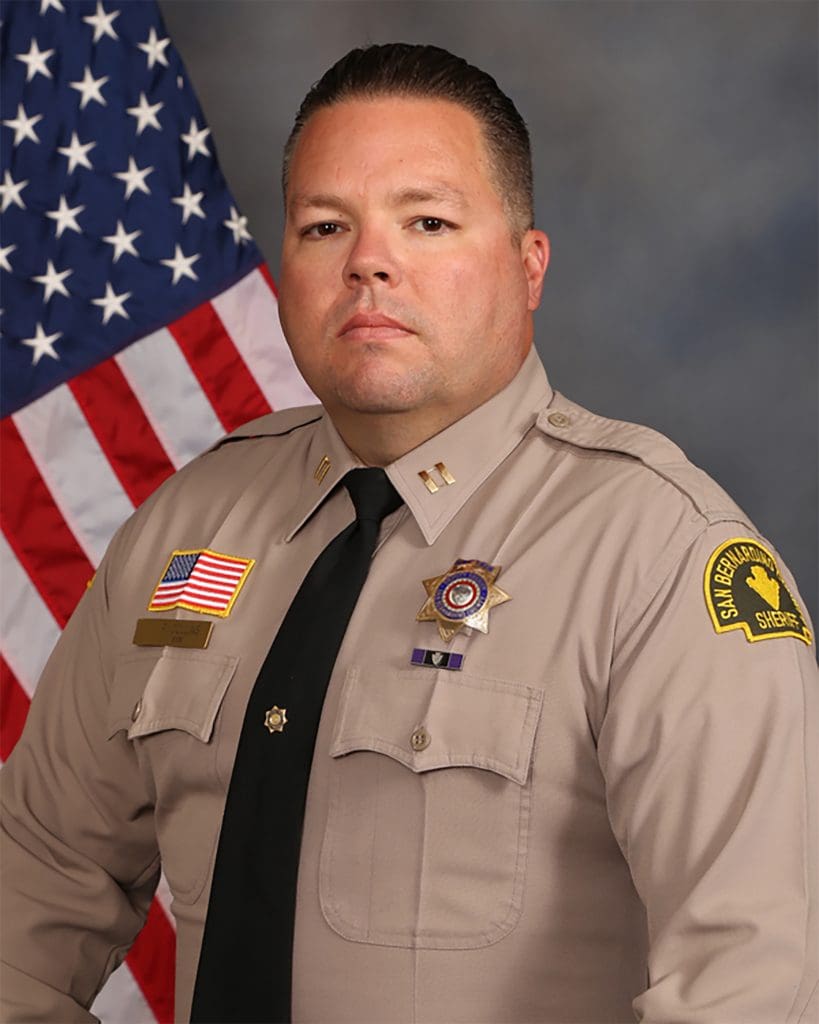 Ryan Collins, Captain
Phone:
909-387-8400
Divisions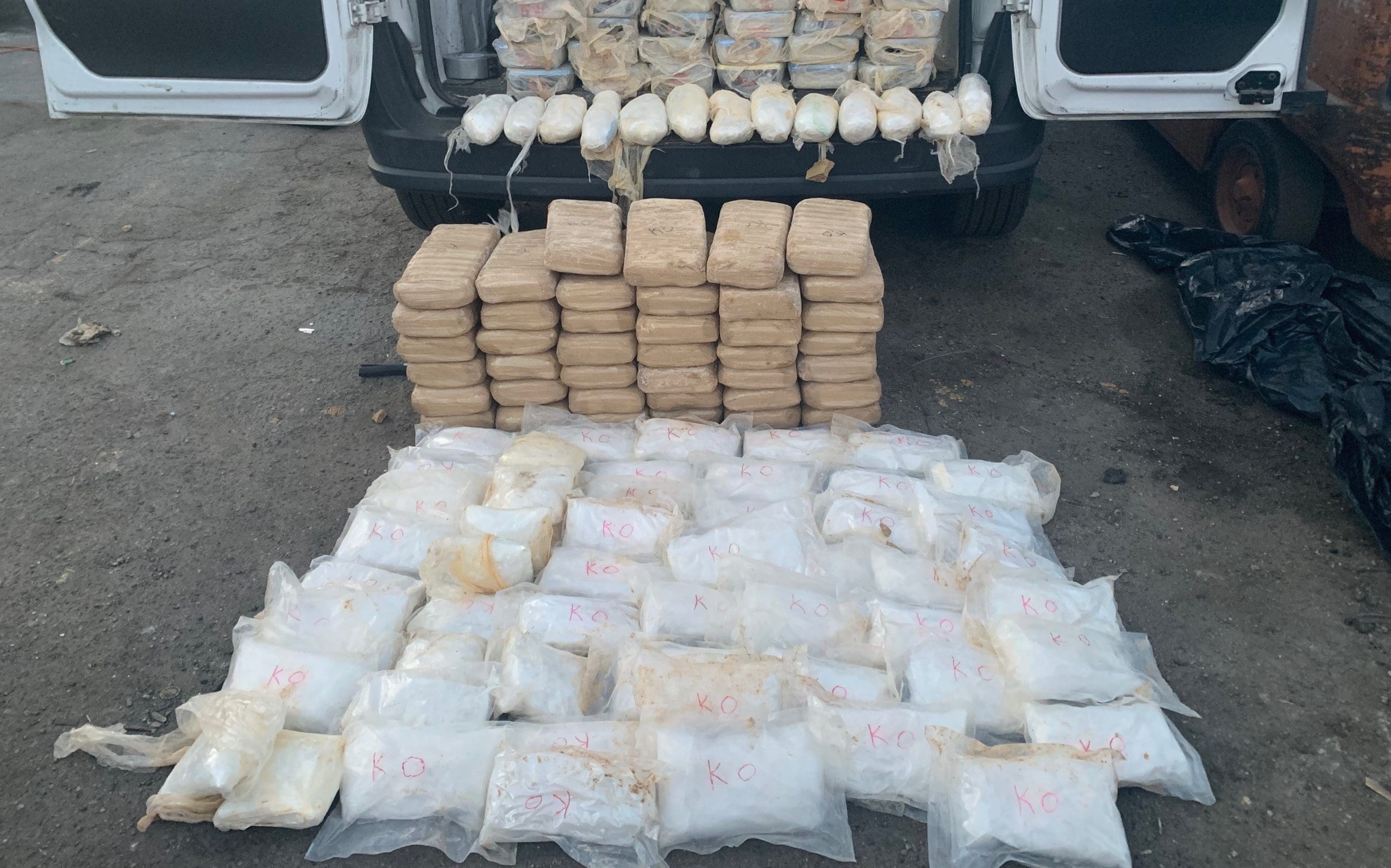 The Gangs/Narcotics Division is comprised of specialty trained and highly dedicated sworn and professional personnel who cover a broad range of specific enforcement areas. The personnel is arranged into several teams and task forces to provide a maximum level of gang and narcotic enforcement for the citizens of San Bernardino County. Additionally, the division has task force representatives who participate with investigations of a complex nature in human trafficking, auto theft, parcel interdiction, DEA, marijuana eradication, and the High-Intensity Drug Trafficking Area of the LA-based region. Together these units are leading the charge to ensure a safe community for our citizens.
The Gangs/Narcotics Division has organized the majority of its resources into large investigative teams committed to sophisticated, multi-level investigative units tasked with combating upper echelon members of the criminal street and prison gangs, as well as disrupting and or dismantling drug trafficking organizations.
The Sheriff's Gangs/Narcotics Division is prepared to meet the challenges and opportunities facing law enforcement in the 21st Century. The division's commitment to the community we serve is simple. Daily the Sheriff's Gangs/Narcotics Division will strive to make our community a better place to live using efficient and innovative enforcement, targeting gang members, drug traffickers, and users who terrorize the citizens of San Bernardino County.
The Valley Gang Team is a proactive enforcement group responsible for gang suppression. The Valley Gang Team's mission is to ensure the public's safety by impacting the criminal element, focusing on street gangs and their members. They identify and document existing and emerging criminal street gangs and their members, gather criminal intelligence, suppress and eliminate criminal street gang activity, arrest and assist in the conviction of criminal street gang members.While investigating street level crime and conducting complex investigations into large-scale criminal organizations, the Valley Gang Team monitors gang activity and provides support to the Sheriff's patrol stations as well as allied agencies. The Valley Gang Team networks with other gang investigators in the region to develop anti-gang strategies to curb the criminal gang activity infesting neighborhoods in San Bernardino County. The success of the Sheriff's Department's gang suppression effort relies greatly on the mutual collaboration of all local law enforcement agencies, with the Valley Gang Team being the hub of the endeavor.
The High Desert Gang Team is a Task Force designed team comprised of Sheriff's personnel, San Bernardino County Probation, and the FBI. The team focuses their efforts on gang crime suppression, intelligence, and identification. These investigators work diligently contacting gang members, serving search warrants and making arrests for gang-related crimes using high-level investigative techniques. Their area of responsibilities covers eight County patrol stations including the area of Needles, Morongo, 29 palms and the entire High Desert.
The Gang Intelligence Team (G.I.T) is a Federal Gang Task Force comprised of law enforcement personnel from Homeland Security Investigations, the San Bernardino County Sheriff's Department, the San Bernardino County Probation Department, the California Highway Patrol, and California State Parole. G.I.T conducts in-depth, comprehensive gang investigations that target the most violent, disruptive, and influential criminal street and prison gangs in our communities. The desired goal of the Gang Intelligence Team is to disrupt and dismantle these criminal organizations through State and Federal prosecution.
The Hi-Tech Crime Detail handles an average of 350 cases per year. The cases typically require forensic examinations of computers, video, and audio involved in such crimes as identity theft, child exploitation, robberies, and homicide. Since their inception in December 1999, the detail has gained the recognition as one of the premier law enforcement units of its type. That recognition has brought with it many requests for assistance from law enforcement agencies throughout the State and the County, as well as other states within the country and several international requests for assistance. The Hi-Tech Detail has been recognized in international law enforcement magazines and documentary work by MSNBC television. The personnel within the detail routinely attend training classes and seminars to keep up with the ever-changing technological challenges. Members of the detail continue to diligently develop and identify new techniques and equipment in an effort to train and assist other investigators in the use of technology for law enforcement. They also work closely with private industry and government resources to develop information as well.
Currently, two teams are focusing on mid-level to major narcotic organizations that conduct clandestine manufacturing operations throughout San Bernardino County. The California Multi-Jurisdiction Methamphetamine Enforcement Team (CALMMET) is utilized because of their broad experience and training in combating methamphetamine manufacturers. Both teams are sought after by other counties, state and federal narcotic law enforcement agencies to assist them with complex operations within their jurisdictions. Their secondary mission is to combat criminal organizations that manufacture illegal drugs.The Regional Methamphetamine Task Force (RMTF) is part of a four (4) county task force committed to the fight against the methamphetamine problem within the greater inland empire area. This joint networking effort between San Bernardino, Riverside, Orange and Los Angeles Counties has been working successfully since 1996. Both the CALMMET and RMTF teams also operate as a mid-level undercover investigative unit with its primary task of locating and dismantling criminal organizations that manufacture, traffic and sell illegal drugs. Domestic Highway Enforcement Team The main mission of the DHE team is to investigate mid-level to large-scale organizations that are using the local interstates, highways and streets to traffic drugs.Inland Regional Narcotic Enforcement TeamI.R.N.E.T. is a major narcotic investigation team which is comprised of various San Bernardino County law enforcement officers and is spearheaded by the Sheriff's department. This team is also composed of several Federal and State investigators. By its diversity alone, I.R.N.E.T. has numerous resources that make it a premier investigative unit within the Southern California area. I.R.N.E.T. is partially funded through the High-Intensity Drug Trafficking Area (HIDTA) as part of the Los Angeles-based HIDTA program. I.R.N.E.T. is a stand-alone team within the Gangs/Narcotics Division structured with a Program Manager who is a Lieutenant assigned by the Sheriff of San Bernardino County and a Task Force Commander who is the Captain of the Gangs/Narcotics Division.
The Marijuana Enforcement Team (MET) investigates marijuana-related crimes throughout San Bernardino County. This includes both indoor and outdoor marijuana cultivations, illegal marijuana dispensaries, THC extraction labs, and violations of California's marijuana laws. The team works in close cooperation with various local, state, and federal agencies, including the California National Guard, US Forest Service, and Drug Enforcement Agency (DEA). This joint agency response has proven extremely useful in locating and eradicating many large outdoor cultivations that are typically found in remote areas of the San Bernardino County.
The Riverside DEA Task Force groups conduct long-term, complex investigations targeting major narcotics trafficking organizations in the Inland Empire. The task force team members consist of investigators from the Drug Enforcement Administration, San Bernardino County Sheriff's Department, and other local police agencies. Disrupting and dismantling drug trafficking organizations is the primary goal of the Task Force.
It is the primary objective of the Southern California Drug Task Force to conduct long-term, complex investigations targeting major narcotic trafficking organizations that operate on a national and international level. The HIDTA Group 50 task force concentrates its efforts on organizations located in the Inland Empire. The HIDTA Group 50 task force is comprised of investigators from the Drug Enforcement Administration, US Customs, San Bernardino County Sheriff's Department, Bureau of Narcotic Enforcement, Riverside County Sheriff's Department, Riverside Police Department, and the Ontario Police Department.
The San Bernardino County Auto Theft Task Force (SANCATT) devotes its attention and efforts to combating organized vehicle theft, auto theft rings and chop shop operations that dispose of vehicle parts. The Task Force also routinely conducts inspections of vehicle-related businesses for any auto theft violations. The Task Force is a countywide multi-jurisdictional task force involving city police agencies, San Bernardino County Sheriff's Department, San Bernardino County District Attorney's Office, California Highway Patrol, Department of Motor Vehicles, and the National Insurance Crime Bureau.
The Parcel Interdiction Task Force is made up of local agencies within San Bernardino County who are partnered together with Homeland Security Investigations. The task force is dedicated to combating drug trafficking as it pertains to the private parcel businesses located within San Bernardino County. The Parcel Interdiction Task Force routinely conducts inspections at a variety of commercialized shipping companies and transportation businesses.
The Human Trafficking Task Force (HTTF) is comprised of law enforcement personnel who have a victim-centered approach, allowing investigators to focus on rescuing victims of sexual slavery and human trafficking by providing them with much needed resources. The desired goal of the HTTF is to identify and arrest the victim's captors, seek successful prosecutions, and disrupt the demand for vulnerable victims by targeting their customers.